NMU Women Roll Past Lake Superior State, 70-39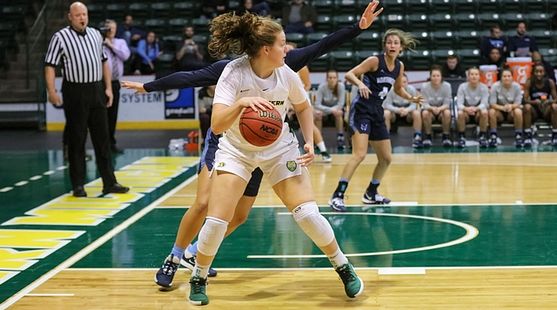 This story was written by NMU Sports Information

MARQUETTE, Mich. – A team effort that saw 11 players score and four reach double figures helped the Northern Michigan University Women's Basketball team post a season high 72 points as they collected a 72-39 victory over Lake Superior State University in Saturday's Great Lakes Intercollegiate Athletic Conference action.

The Wildcats had four finish with double figures, led by sophomore Emily Mueller (Fond du Lac, Wis.) who scored a career high with 15 points, seven rebounds and five assists.

She finished the day with nine free throws. Seniors Erin Honkala (Howell, Mich.) and Jessica Schultz (Mineral Point, Wis.) both added 11 points. Honkala also grabbed seven rebounds along with two steals while Schultz had five rebounds and two assists.

Junior Elizabeth Lutz (Marshall, Wis.) tallied 10 points.

The team allowed just 39 points, the third time this season they kept an opponent under 40 points. The Wildcat defense limited the Lakers to 28% shooting from the field and 18% from behind the arc.

Freshman Makaylee Kuhn (Hilbert, Wis.) got the scoring started with a layup. Schultz added a layup before Lake State got their first score of the game. Schultz scored on two more possessions before Lutz knocked in a three and Honkala made a free throw to give NMU a 12-2 lead with just over three minutes left in the quarter.

After Lake State scored, sophomore Elena Alaix (Madrid, Spain) knocked in a three. Lake State managed to find the basket one more time before the end of the quarter but NMU took a 15-6 lead into the quarter break.

Lake State scored first which junior Amber Huebner (Marquette, Mich.) followed with a layup. The Lakers soon made it 17-12 three minutes into the quarter. Honkala then went on a 6-0 run to build the NMU lead out to 23-12. Mueller added a free throw before Huebner made a jumper with two minutes before half and the NMU lead was 26-12.

LSSU made a layup to finish the scoring of the first half while NMU entered halftime with a 26-14 advantage.

Kuhn made a layup to start the second half. LSSU made a free throw which Schultz followed with an and-one. She then answered two Laker free throws with another jumper and Alaix and Lutz both scored to make the lead 37-17. The Wildcats continued to extend their lead through the remainder of the quarter and led 48-24 to start the fourth quarter.

In the fourth quarter, redshirt freshman Andrea Perez (Madrid, Spain) made a three with 6:41 to go to give NMU a 59-27 lead. With 3:44 on the clock, redshirt freshman Peyton Wright (Ashwaubenon, Wis.) scored her first collegiate basket with a three to make it 62-33.

Senior Baleigh Delorit (Algoma, Wis.) sank a three at the 1:17 mark and redshirt freshman Madigan Johns (Ishpeming, Mich.) made a three to make it 72-37 and close out the scoring for NMU.

Lake Superior State made a basket to end the quarter and NMU collected a 72-39 win.

NMU is now 8-9 this season and 5-4 in the GLIAC while LSSU falls to 6-10 and 2-7 in the league. The Wildcats will return to action next week by visiting Davenport University Thursday and #4 Grand Valley State University Saturday.