Bay College Women Roll To Easy 106-12 Road Win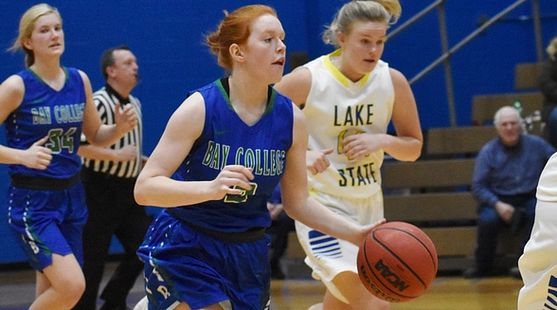 SAULT STE. MARIE---The Bay College women's basketball team jumped to a big lead early and cruised to a 106-12 win over the Lake Superior State University junior varsity team Sunday night in Sault Ste. Marie.

All nine Norse players who suited up scored, and six of them finished in double figures.
The Norse led, 28-2, after the first quarter, allowing just two free throws in the first eight minutes. Bay led, 55-4, at halftime, and continued to rotate players in and out of the lineup in the second half.

Bay was led by Gwinn High School graduate Trish McGuire. She had 22 points, 16 of which came in the second half. Madison Olsen, playing less than an hour from her hometown of St. Ignace, added 17 points with a strong inside game. Bark River-Harris graduate Lauryn Bloniarz had a career-high 16 points.

Cierra Molina, playing a half hour from her hometown of Rudyard, also had a career high, with eleven points. JuliAnn Wickman hit three triples and also scored eleven points, and Marissa Ackerman scored all ten of her points in the second half, knocking down a pair of triples.

Two other Norse players barely missed double figures, with Holly Wardynski scoring nine points and Haley Trudell hitting a pair of triples and adding eight points.

LSSU (0-6) was led by Kirby Harrison-Alcorn's six points. The Norse allowed only three baskets and five free throws all night long.

Bay College improved to 14-6 on the season with their second large win over the Junior Lakers this season. The Norse host Finlandia University next Saturday at 1:00.

The game will be broadcast on Maverick 106.3 FM and on-line at www.radioresultsnetwork.com.

Click the thumbnails in the ARTICLE HIGHLIGHTS box above to see photos and videos, and hear post-game comments from Bloniarz and Coach Rob Robinson. Also listen to Molina's player spotlight interview.