BOUNCING BACK: Norse Top Junior Lakers, 98-75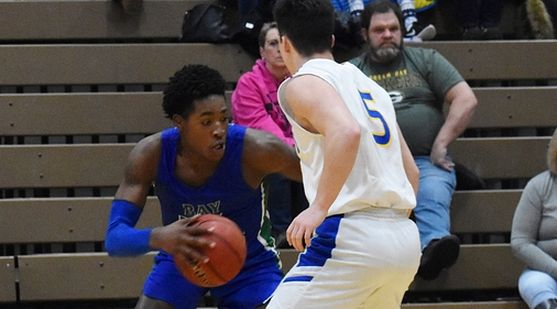 SAULT STE. MARIE---One day after suffering their most heartbreaking loss of the season, the Bay College Norse men's basketball team was back on the court Sunday night.

The Norse made the three-hour trip to Sault Ste. Marie to face the Lake Superior State University Junior Lakers, and took care of business, posting a 98-75 win at the Bud Cooper Memorial Gym.

Christian Alexander has a monster game for Bay, scoring 25 points, highlighted by three slam dunks. Matt Wagner added 18 points in another solid two-way effort, and Chris Dobessi added eleven points, including a pair of slam dunks.

Ryan Robinette was the fourth Norse player in double figures, knocking down three triples and scoring eleven points. He also grabbed ten rebounds for a double-double.

Tristan Masuga scored nine points and Khalid Fleming contributed eight as the Norse broke open a close 13-9 game with a 19-9 spurt in the first half to go up, 32-18.

The Norse led at halftime, 47-29.

The Junior Lakers, playing just their fifth game of the year and second against Bay, stayed in the game by making 17 three-point baskets.

Austin Purchase had seven of the triples and led LSSU with 24 points. Reese Zhulke had five three's and finished with 17 points. Stone Arnold, who had 31 points in an earlier meeting with Bay, scored 12 points this time.

LSSU closed to within 12 points on two occasions late in the game before the Norse bench finished the game on a 14-3 run.

Bay College shook off Saturday's one-point loss to Dakota County Technical College by improving to 14-7 on the season. The Norse return to action next Saturday with a home game against Finlandia University. Game time is 3:00 and it will e broadcast live on Maverick 106.3 FM and radioresultsnetwork.com.

Click the thumbnails in the ARTICLE HIGHLIGHTS box above to see photos and videos, and to listen to post-game comments from Alexander and Coach Matt Johnson. Also click to hear Marcus Harris's player spotlight interview.