Gorzinski Leads NCA Jets Past Rapid River, 66-54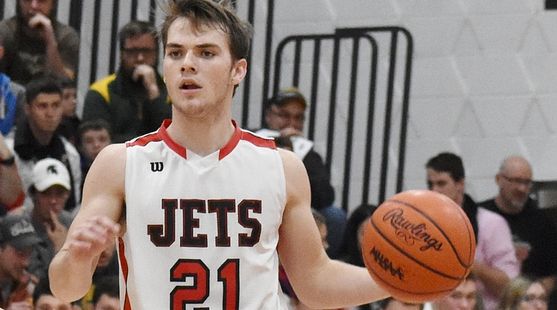 POWERS---The North Central Jets beat the Rapid River Rockets, 66-54, Monday night in Powers. Freshman Luke Gorzinski scored 32 points for the Jets, and that came after he had no points in the first quarter.

"Zero points in the first," Gorzinski laughed. "I just had to do what I could on defense to make up for it."

And he did, locking down Rapid River's top player, senior Tyler Sundling, holding him without a point for the entire first half. Sundling finished with seven points.

"He's a heck of a player," Gorzinski said of Sundling. "Priority One was stopping him. That was the game plan. He did put up a couple on me later but he deserved it because he's a great player."

On the offensive side of the ball, Gorzinski deflected the praise to his teammates.

"Noah (Gorzinski), what he does on offense, opens up everyone else," Luke Gorzinski said. "Noah may not have had the points, but everyone who was here tonight knows that all the stuff Noah does in the background frees up me, frees up all of my teammates."

The Jets defense made life tough not only for Sundling, but for the entire Rockets offense, which never could get over the hump. The Rockets led, 10-9, after the first quarter, but trailed, 33-23 after Gorzinski beat the buzzer-beating triple.

NCA led, 48-37, after three, and the Rockets could not make a big push.

One of the stars on defense for the Jets was Carter Eichmeier, who normally comes off the bench but started this one. He says he prides himself on defense.

"I had to do some self-reflecting," Eichmeier said. "I wasn't contributing to the team as much as I normally should be. I bring the intensity most of the time. I focus on defense. When you have a scorer like Luke, and a scorer like Noah, you really can't sacrafice their bodies going after loose balls on the ground. My job on the court is to get all the loose balls and get them the opportunities, because they're our scorers."

Tony DeMars had 21 points to lead the Rockets.

NCA improves to 6-2. Rapid River falls to 5-3.

Click the AUDIO button to hear post-game interviews with NCA's Luke Gorzinski and Carter Eichmeier.