STRONG EFFORT: Eskymos Battle #1 Copper Kings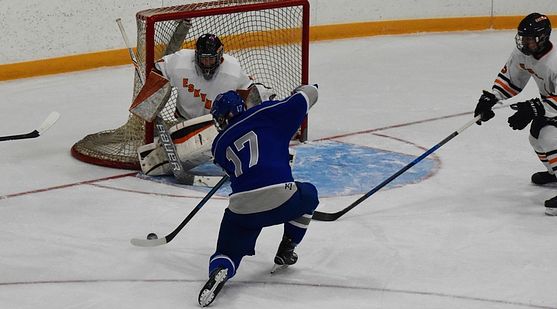 WELLS---The Escanaba High School hockey team battled hard Tuesday night before falling to the state's top-ranked Division Three team, the Calumet Copper Kings, 5-2, at the Wells Sports Complex.

The result came less than a week after the Eskymos were flattened by a Marquette Redmen in a game where Eskymo CoachMatt Hughes challenged his team to show more passion and attention to detail.

Mission accomplished, even in a losing effort.

"Night and day," Hughes said when comparing his team's effort. "We played hard. We got better as the game went on. We made fewer mistakes as the game went on. You take away those little things, the shorthanded goal, and a turnover, who knows?"

Calumet had ten seniors on the ice, more than half of its 18-man roster. Escanaba had five freshmen and three sophomores play all night long, adding up to half of its roster.

Scott Loukus scored three goals and assisted on a fourth, while Dean Loukus had four assists to lead the Copper Kings, who improved to 13-1-1 on the season.

Sawyer LaMarch and Karson Krutina scored goals and goaltender Trevor Denome stopped 34 of the 38 shots he saved for Escanaba, which fell to 8-7-0 on the season.

The Eskymos matched the Copper Kings stride-for-stride throughout the first period, with the game tied at 0-0 and Escanaba leading in the shots on goal, 5-4.

But Calumet struck quickly in the final minute of the period, with Scott Loukus scoring at 15:56, and Tanner Rowe scoring 22 seconds later.

In the second period, Rowe was given a five-minute major penalty, and ten minute misconduct, for checking from behind as he buried Eskymo freshman Gunner Bourdeau into the end boards. But the Eskymos mounted very little offense on the long power play, getting just two shots on Calumet goaltender Alex Studebaker.

"That was awful to watch, considering the time we spend on the power play (in practice)," Hughes said, candidly.

Escanaba got some life moments later, however, when freshman Sawyer LaMarch won a wall battle, drove down the goal line, and beat Studebaker short side for an unassisted goal, cutting the deficit to 2-1 midway through the second period.

LaMarch was picked the game's #2 star, and Hughes was impressed with the overall play of the freshman, even before the goal was scored.

"I could sense he was going to have a good game from his first couple of shifts," Hughes said. "He was playing his position very well, he was going hard to pucks. He was digging on the wall. And he was being very patient with the puck."

"In the first period, he made a very patient play to get the puck to Nick Kolich, and Nick Kolich was able to walk right in and their goalie made a nice save. He (LaMarch) really showed a lot of poise and patience with the puck. It was nice to see him get rewarded with a goal."

Moments later, however, Jayger LaMarch went to the box and Calumet capitalized on the power play as Scott Loukus tipped in a shot with 4:04 left in the period to make it 3-1.

The backbreaker came with 55 seconds left in the second period when the Eskymos were on the power play but gave up a breakaway shorthanded goal by Alex Mantilla.

Trailing 4-1, the Eskymos entered the third period being outshot, 24-14. But they scored an early goal in the third period as Karson Krutina ripped a wrister past Studebaker at the 2:17 mark, and so it was a 4-2 game. And the Eskymos had several scoring chances after that goal, but could not close the score to within one goal.

Calumet, meanwhile, peppered Denome throughout the third period as the Copper Kings had three power plays. They pout 14 shots on the senior Eskymo goalie and he stopped them all, several of them being from point blank range.

"Trev did come up big," Hughes said. "He made some big saves for us. I thought our defensemen and some of our forwards did a good job of getting sticks in lanes and blocking some shots. It didn't feel like a 40-shot game, but Trev came up big."

In the final minute, the Eskymos pulled Denome for an extra attacker, and it appeared that they would get an offensive zone face-off when the Copper Kings appeared to ice the puck. Icing was waived off, and Scott Loukus completed his hat trick by tapping in an empty-net goal with 55 seconds left. Hughes was not happy.

"I was told that if our defenseman pinched to try to make a play, then icing is automatically waived off," Hughes said. "I'm unclear on that right now. Because there were a lot of defensement pinching and pucks went all the way to the goal line and the whistle was blown for icing. So, I don't know."

"I can understand that if our guy makes a defensive play and he's being lazy coming back, then, yeah, waive it off. But our guy was going hard back to the puck."

Calumet outshot Escanaba, 39-17.

The Eskymos and Copper Kings will play again on Saturday at the Colosseum in Calumet. Escanaba will first face Houghon at Dee Stadium Friday night.

Friday's game starts at 7:00 ET and Saturday's starts at 1:0o. Both games will be broadcast live on WCHT-AM (NewsTalk 600) and on-line at www.rrnsports.com.

Friday's game will also be broadcast on WGMV-FM (Maverick 106.3) and both games can be heard up in the Copper Country on K-Bear 102.3.

Click the thumbnails in the ARTICLE HIGHLIGHTS box above to see photos and videos taken by Micky LaMarch. Also, hear Hughes' post-game interview, and player spotlight interviews with sophomores Karson Krutina and Kobie Petrich.