Eskymos Come Up Short In Showcase Opener, 4-3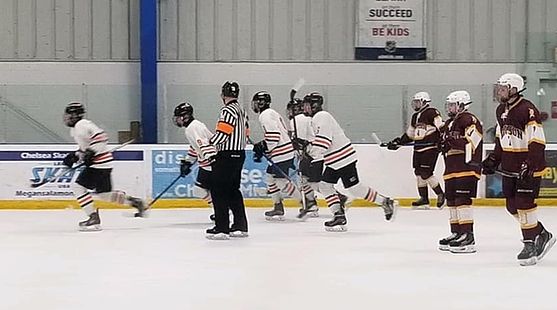 CHELSEA, Mich.---The Escanaba High School hockey team had the lead in the second period on Thursday at the Michigan Public High School Hockey Showcase, but lost on a third period goal to the Davison Cardinals, 4-3, in downstate Chelsea.

Escanaba boarded a bus at the Wells Sports Complex at 5 a.m. on Thursday and made the seven-plus-hour-drive to the Arctic Coliseum in time for the 2 p.m. faceoff.

And Ethan Silverstone got the Eskymos going with a first period goal. Nick Kolich and Karson Krutina scored in the second period to put Escanaba in front, but the Cardinals tied it late in the period and had the only goal of the third period.

The Eskymos put on pressure with the goaltender pulled in the final minute of the game, but could not get the equalizer.

Davison improved to 12-5-0 on the season. Escanaba fell to 8-10-0.

Also at the Showcase on Thusrday, the U.P.'s other team in this statewide event, the Marquette Redmen, scored four goals in the second period and three more in the third period to beat the Lake Orion Dragons, 7-1.

The Eskymos have an early start on Friday: a 9:30 a.m.game against Wyandotte.

Click the thumbnails in the ARTICLE HIGHLIGHTS box above to see videos of two Eskymo goals, courtesy of Missy Reinhart.