SHOOTOUT WINNER: Eskymos Win At Showcase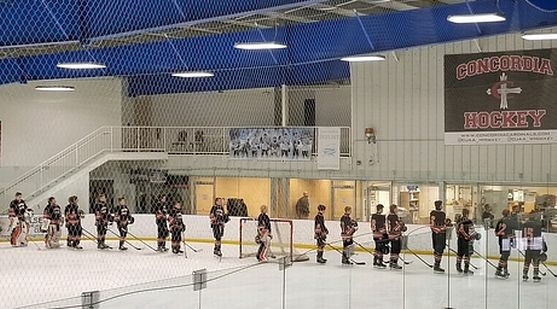 CHELSEA---The Escanaba High School hockey team bounced back from Thursday's tough loss by beating the Wyandotte Bears, 2-1, in a shootout Friday at the Michigan Public School's High School Hockey Showcase in downstate Chelsea.

The game was scoreless for two periods before the Bears got a goal on a bouncing puck to take the lead. But moments later, Eskymo captain Ethan Silverstone tied the game.

"We were working that team the whole game but we couldn't get one, and then they got a lucky bounce, and our heads were kind of down so we really needed a goal," Silverstone said. "So I got it in the slot, me and Karson and Kyle (Kruitina) were working it and I put it in high blocker side."

The Eskymos had more scoring chances but couldn't put one home, so in this Showcase, they skip overtime and go right to a three-person shootout.

The Eskymos' first goal was scored by Nick Kolich, who also scored in Thursday's one-goal loss to Davison.

"I found my move by watching the (NHL) All-Star Game last week and David Pastrnak (Boston Bruins)," Kolich said. "So I came in with some speed and stayed to the right side. Once I got to the hashmarks, I brought it to my forehand like I was gonna shoot, but I took it back to my backhand and I tried shelfing 'er but it deflected off of his glove. The goalie was in his butterfly, so I had him."

Kyle Krutina missed wide on his shootout attempt, so it came down to Silverstone.

"It's something my dad does. So I go wide left and I come back in the middle, and I look at the goalie's glove" Silverstone said. "If it's low, like where I want to go, I know it's gonna be (his shot) high glove, easy. Today, his glove was really low, so I was like, oh yeah, wide open! So I shot it high glove, and it went in."

With the 2-1 lead, it came down to Trevor Denome to make the save in net. He did.

"He had some pretty good hands and moved 'er side to side pretty good and pretty fast," Denome said. "But I tracked it and watched it the best I could and made the save. When we score first and they don't, but then we don't score again, it's pretty intense on me. But we got 'er done!"

The Eskymos also won a game in the shootout at last year's Showcase.

Meanwhile, also on Friday, Evan Kroll scored in the final minute and the Marquette Redmen beat Macomb Dakota, 5-4. Redmen are 2-0 at the Showcase.

The Eskymos broke a five-game losing streak with the win, and improved to 9-10-0 on the season. Escanaba takes on Jenison Saturday afternoon in their third Showcase contest.