BACK TO .500: Eskymos Top Jenison At Showcase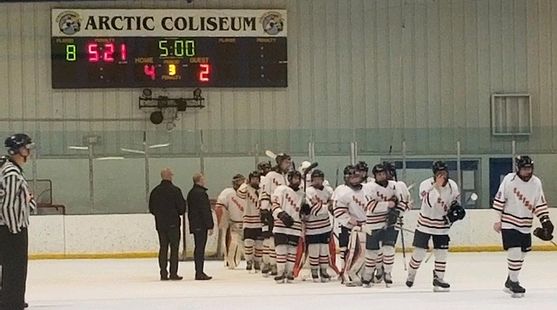 CHELSEA---The Escanaba High School hockey team improved its season record to 10-10-0 on Saturday after posting a 4-2 win over the Jenison Wildcats at the Arctic Coliseum in downstate Chelsea. The Eskymos won two of three games at the event.

The Eskymos scored the only goal of the first period as Gunnar Bourdeau connected on the power play 5:42 into the game. Jayger LaMarch and Sawyer LaMarch drew the assists.

In the second period, the Wildcats scored two goals two minutes apart. First, it was Noah Sheldon scoring, with Nick Rathcack assisting, at the 7:39 mark. Then at 9:58, it was the reverse, as Rathcack scored and Sheldon assisted.

Escanaba tied the game on a Kyle Krutina goal at the 14:06 mark, with Ethan Silverstone assisting. Then the Eskymos got the go-ahead goal by Karson Krutina with 21 seconds left in the second period, with Silverstone getting his second assist.

In the third period, Nick Kolich scored for the third straight game at the Michigan Public High School Hockey Showcase, with defenseman Luke Labre getting the assist at the 11:05 mark. And although Spencer Bourdeau was assessed a major penalty for head contact in the final two minutes, the Wildcats oculd not cash in for another goal.

Jenison fell to 11-8-1 on the season while Escanaba improved to 10-10-0.

Escanaba won on Friday in a shootout against Wyandotte Roosevelt, 3-2. CLICK HERE to read details, see videos, and listen to interviews about Friday's Escanaba win.

Escanaba lost its Showcase opener Thursday ina tight contest, 4-3, to Davison. CLICK HERE to read details and see videos from Thursday's game.

The other U.P. team at this tournament, the Marquette Redmen, rallied from two goals down in the third period on Saturday to beat Holland West Ottawa, 3-2. Jakob Peterson had the game-winning goal for the Redmen. Marquette won all three games in Chelsea.

Escanaba will return home for two home games this week. The Eskymos host Negaunee Tuesday night at 7:00, and welcome Gaylord Friday night at 7:30.

Both games will be on the radio, with Tuesday's game on NewsTalk 600 and Friday's game on Maverick 106.3, as well as on-line at www.rrnsports.com.

Click the thumbnails in the ARTICLE HIGHLIGHTS box above to see videos of goals by Bourdeau and Karson Krutina taken by Missy Reinhart.