Norse Blow 21-Point Lead; Lose In Overtime, 71-68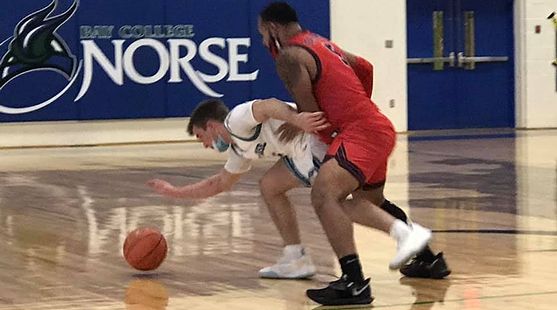 Click the thumbnails to see photos and videos, hear post-game comments from Coach Matt Johnson, and listen to the halftime interview with Strength and Conditioning Coach Zach Rose.

ESCANABA---The Bay College Norse men's basketball team led for almost th we entire game, taking leads by as much as 21 points, but couldn't hold on, losing in overtime to Kankakee (Ill.) Community College 71-68 in overtime on Saturday at the Bay College Gym.


The Norse were pounded by the Cavaliers, 94-65, in Illinois, last month. But this time, the Norse were much better on defense for much of the game. They led, 34-25, at halftime, and opened the second half on a 15-3 run to seemingly put the game away at 49-28.
With 14 minutes left, the Norse got a dunk from Chris Dobessi followed by a triple from Ashton Janke, and it looked good because the defense allowed just 28 points in 26 minutes of play.
But the Cavaliers went on an 11-0 run to close to within 49-39, and the Norse still led by ten 56-46, with 5:35 left, after Janke scored a layup from the right side of the basket.
Kankakee, behind three-point shooting from Derek Shouse and the dominating rebounding of Chaz Hinds (six offensive rebounds, 11 total boards) went on another run, this time 8-0, to close to within 56-54, down the stretch.
In overtime, the Norse trailed, 62-60 before Dobessi scored five straight points to put Bay in front, 65-62. But the same problems that have plagued the Norse all season popped up again: poor free throw shooting and giving up too many offensive rebounds.
Bay shot just 4-of-10 from the foul line in the overtime period, while Kankakee made 7-of-9 with A'Kieon Gill making four of them and Ibrahima Athie going 2-for-2.
The Norse seemed to catch a break when Hinds broke down the Norse defense and dunked to put the Cavs up by two in overtime.
The officlals ruled that he hung on the rim too long and was given a technical foul. and it was the big guy's fifth and final foul.
But the usually-reliable Matt Wagner missed one of the two free throws, and later, Dobessi missed both foul shots on a double-bonus situation. After the Cavs took care of business at the line, Bay had to try a long triple from Wagner to try to force a second overtime.
The shot was an airball, and Bay had a very disappointing loss.
"When you've got somebody down, you've got to keep your feet on the gas, and we didn't do that," Johnson said. "We've got to have guys that hit shots. It just dried up for us when it mattered. They beat us really bad last time (94-65). There's absolutely no question we've gotten better. The guys played hard. They gave the effort. But none of us should be happy. We lost by three in a game we should have done."
Wagner was hot early on. scoring 15 points in teh first half. He finished with 20.
Dobessi had 23 points to lead all scorers, making 10 of the 21 shots he made from the floor.
Gill led Kankakee (11-8) with 19 points and Damari Nixon added 15 points.
Bay (7-12) will face Bryant & Stratton (Wis.) on Sunday, one week after the Norse pulled out an overtime win over the Bobcats.
B&S beat Dakota County Technical College, 85-72, in the first game on Saturday. Sunday's Bay game starts at 1:00 ET and it will be broadcast on Maverick 106.3 FM and on-line at www.radioresultsnetwork.com.