Blues Wrap Up Delta County Trips With 6-1 Victory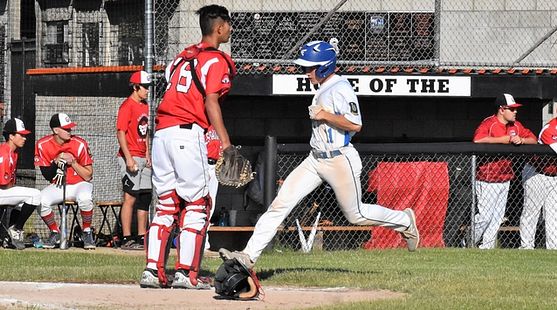 ESCANABA---The Marquette Blues American Legion Baseball team scored five runs in the fourth inning and Justin Wenk made it stand up on the mound in a 6-1 Blues win over the Escanaba Cubs on Wednesday.

Marquette wrapped up its six games in Delta County with a 3-3 record.

"We've made a lot of trips down here, but it's good baseball," Marquette Manager Derek Swajanen said. "It's a pretty easy drive, so it's no big deal. And we've backoaded our schedule with home games because we were making sure our field was ready to go."

Marquette's Haley Field underwent major renovations this spring, with all new sod and new scoreboard among the amenities. Swjaanen says a lot of people worked hard to make it happen, as the Blues will play their first game on the field Thursday against Negaunee.

"And they were out there at their own free time, and they never took any money," Swajanen said. of the members of the Blues board and other volunteers. "That says a lot, especially in this tough time. They (businesses) just get done with the pandemic and they're opening new businesses and trying to keep everything afloat. I just cam't say enough and I'm so proud to be a part of this program."

On Wednesday, Justin Wenk carried the Blues with a complete-game effort on the mound. He needed just 73 pitches for six innings of two-hit ball before giving up a couple of pop fly singles and a run in the seventh inning. He says it's the first time he's ever pitched against Escanaba.

"I knew it was going to be tough," Wenk said, in his first-ever radio interview. "I just came out stronger than I thought I would. It was first-pitch strikes. Just getting ahead in counts. That always works for me against everybody, so I just relied on that."

He got off to a rough start in the first inning, however, when he walked Tyler Lawson to start the firat inning and Hector Arayguyan followed with a base hit to center field. With runners at second and third with nobody out, Wenk got a ground ball, strikeout, and flyout.

Escanaba wouild not get another base hit until the sixth inning, and by that time, the Blues had a comfortable 6-0 lead thanks to a five-run fourth inning.

Cubs manager Jon Bintner chose to sit several starters to give others a chance to play, including Adam Willette, who got his first start on the mound. Willette allowed one unearned run in the first three innings while getting Marquette to strand six baserunners.

But in the fourth inning, Willette allowed an infield hit to Kyle Frusti (off his glove to the back of the mound) and a two-strike single to Wenk. Willette then walked the next two batters, including Hogan Nemetz with the bases loaded, to force in a run.

That was all for Willette, and he was replaced on the hill by Carson Sprader. He got a Parker Maki grounder for one out, but Brady Wright smoked a shot to left field that only a strong wind blowing in stopped from going to the fance. It was caught by Drew Rodman in left field for a sacrafice fly, making it a 3-0 Marquette lead.

Jake Peterson followed with a two-run hit up the gap to make it a 5-0 game.

That was more than enough for Wenk, as he retired twelve batters in a row before a leadoff walk to Rodman in the fifth inning. Wenk got the next three outs to end the fifth inning.

In the sixth inning, Lawson was safe on an error to start the inning, and with one out, Jack McEvers had a pinch hit single. But Wenk got Grant LaMarche and Riley Lamb to ground out, ending a potential Cubs comeback.

Sprader worked out of a bases loaded jam in the top of the seventh inning with a pair of strikeouts. He finished with six strikeouts in four innings of relief.

Wenk gave up back-to-back singles to Rodman and Jarret Olsen to start the bottom of the seventh inning as the Cubs made a last-ditch comeback effort.

Nick LaFave then hot a ground ball toward second base. Blues second baseman Pete VandenAvond got the ball and was run over by Olsen between first and second. Olsen was called for interference on the hard contact, meaning that LaFave was also out at first base.

Rodman scored from third base for Escanaba's only run, and then Wenk ended the complete game effort when Bryce Blixt struck out for the 21st and final out.

Marquette improved to 3-3 on the season, with all six games in Delta County, and ahead of Thursday's scheduled home opener against Negaunee. Then the Blues travel to the Marinette Firecracker Tournament on Friday for a rematch against the Green Bay Preble Shockers. That game starts at 1:00 ET and will be broadcast on WUPT-FM (100.3 The Point).

Escanaba (2-3) will also play at the Marinette tournament on Friday, with the late game agaisnt the host Marinette Legion team. Game time is 8:30 ET. It will be broadcast on WCHT-FM (93.5) and WCHT-AM (Newstalk 600). All games are streamed at www.rrnsports.com.

GLADSTONE 9, BARK RIVER 3---The Indians avenged Saturday night's loss to the Bucs with a win under the lights Wednesday in Gladstone. Mason LaChance allowed only three hits in five innings of work on the mound to earn the win. One of the hits he allowed, though, was a three-run, bases-clearing double by Bark River's Noah Gorzinski. Dylan Pepin tossed the final two innings, allowing no runs on two hits, for the Indians (2-4). LaChance, Tyler Darmogray, and Caden Alworden all had two hits for Gladstone. Bark River fell to 1-6 on the season.