MISSED OPPORTUNITIES: Indians Fall In Opener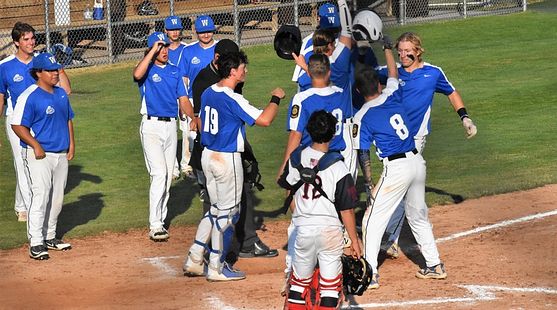 MARINETTE, Wis.---The Gladstone Indians American Legion Baseball team had the lead for most of the game Friday night as the Firecracker Tournament began with a game against Watertown, Wis. But the Wisconsin boys put together a pair of four-run innings at the end to snatch away a 9-5 win at Pederson Ballpark.

Gladstone stranded eleven baserunners, had a runner thrown out between second and third base, and had a run erased off the scoreboard when a runner ran into the Watertown second baseman in a force-play situation, leading to an inning-ending double play.

Despite all of that, it looked like the Gladstone effort would be enough for a tournament-opening win because Tyler Darmogray pitched a no-hitter into the fifth inning.

But a rough sixth inning did Darmogray in as Watertown cleanup hitter Evan Sellnow clubbed a three-run homer to turn a 4-1 Indians lead into a tie game at 4-4. That home run capped an eleven-pitch at-bat for Sellnow.

Still, Indians Manager Scott Kwarciany was happy.

"They're excited," he said of his team's feelings after the loss. "They know that they held down a very good team for a very long time. And are hitting is getting better."

The Indians left two men on base in each of the first four innings as Watertown pitcher Ayden Shauer wiggled in and out of trouble. Darmogray got off to a shaky start when he hit the first man he faced with a pitch and he eventually scored on a couple of passed balls.

But Darmogray would allow only two baserunners through five innings: one on an infield error, and the other, the first hit of the game, by Caleb Hinkes, in the fifth inning.

Gladstone scored four runs in the second inning. Nick Martin and Aedan Creten both had base hits, and John Soderman worked a walk. Then Caden Alworden drew a bases-loaded walk to give Gladstone its first run, tying the game at 1-1.

Ryan Polley followed with an RBI single, then Mason LaChance also drew a bases-loaded walk. Dayton Bernson then added an RBI single to make it 4-1, but LaChance got confused when Polley was held at third. LaChance was tagged out in a rundown between second and third.

That squelched the rally, but the Indians had another shot in the fourth inning when Polley and LaChance led off the inning with base hits. After a Bernson ground ball moved both runners up, Dylan Pepin walked to load the bases.

Owen Trombley hit a grounder to short. The throw to second was in time for the out, and a run appeared to score to make it 5-1. But Pepin ran into the second baseman, so it was a double play, and a missed opportunity for Gladstone.

From there, Watertown's pitcher, Schauer settled down before he ran out out of pitches after six innings. But by that time, his teammates had made a big comeback.

Darmogray got the first out of the top of the sixth inning before Jaden Schneider drew a walk on a 3-2 pitch. Schauer followed with a base hit, and then Darmogray was in a huge battle with Sellnow for eleven pitches. Sellnow won the battle with a home run over the left field fence, on a 3-2 count, bringing home three runs, and tying the game at 4-4.

The inning wasn't over yet, however. Brady Martin drew another Watertown walk, and then with two out, Steven Gates hit a tap toward LaChance at third. LaChance's throw to first was late, and the go-ahead run was in for Watertown. After Darmogray walked Hinkes to put two men on, the pitching day was over as Alworden was broughr in to throw.

He got the final out of the sixth inning, then in the bottom half, the Indians had Polley on second base but Bernson was rung up on a called third strike to end the inning.

Then Alworden was drilled in the top of the seventh inning.

Taylor Walter, who stopped numerous pitches in the dirt behind the plate, launched a solo home run to make it a 6-4 game. The hit parade continued as Schneider, Schauer, and Sellnow had back-to-back-to back doubles. John Clifford added an RBI single, and it was a 9-4 game.

Watertown had to go to the bullpen in the bottom of the seventh inning and the reliever, Gates, struggled. He alked three batters and another was safe on an error, bringing in a Gladstone run and loading the bases with one out. But Alworden and Polley both popped up to end the game.

Polley led the Indians with three base hits.

Gladstone (2-5) will play twice on Saturday. The Indians will face Manitowoc at 10 a.m. CT/11 a.m. ET; and then will face Green Bay Preble at 4:00 ET/3:00 CT. The game against Green Bay will be broadcast on WCHT Radio (FM-93.5 and AM-600) and at www.rrnsports.com.