Marquette Blues Get Revenge Over GB Shockers 7-3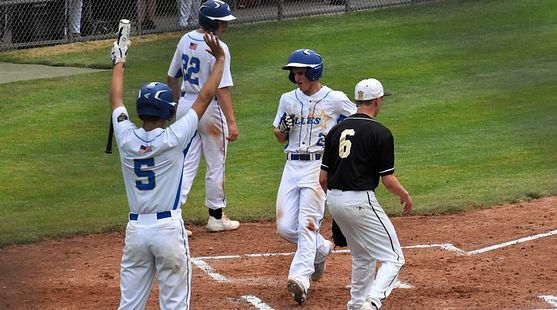 Click the thumbnails to see photos and videos, and hear interviews with Hogan Nemetz and Manager Derek Swajanen.

MARINETTE, Wis.---The Marquette Blues American Legion Baseball team opened the Marinette Firecracker Tournament on Friday with an impressive 7-3 win over the Green Bay Preble Shockers. The Blues had lost to the Shockers at the Escanaba tournament last week.

But this time, Brady Wright threw a complete game, scattering eight hits and relying on mostly-solid defense behind him. And Hogan Nemeitz paced the offense with two doubles and a single at the plate, with Erik Johnson and Hayden Rockhill both adding two hits.

Rockhill's second hit brought in two runs in the fifth inning after Johnson walked with the bases loaded. That three-run inning turned a 4-3 game into a more comfortable 7-3 lead.


Marquette scored an unearned run in the second inning and stranded two men on base before breaking through for three runs in the third inning. Johnson's RBI hit brought in one run before an error brought in another.
But the 4-0 lead didn't last long for Marquette.
In the top of the fourth, Bobby Cerrato's two-run single made it 4-2, and an error on Adrian Heinemeyer's grounder scored another. But Wright got a line-out to end the inning.
From there, Wright allowed only one more baserunner as he retired nine of the last ten men he faced, five of them on fly balls to left field.
Marquette's three-run bottom of the fifth inning included doubles by Jake Peterson and Nemetz, with two walks mixed in, before Rockhill's two-run hit iced the game.
Jimmy Kirkish took the loss on the mound fo Green Bay.

Marquette (6-3) will face the host Marinette team Saturday at 1:30 ET/12:30 CT. The game will be broadcast on FM-100.3 and on the rrnsports.com mobile app. The Blues will also take on Manitowoc at 4 ET. That game will not be broadcast on the radio back home.