FIRE UP CHIPS: Hanson Commits To Play At CMU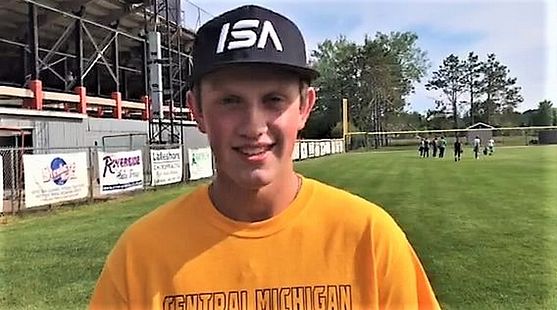 Click the thumbnails to see/hear interviews with Jared and Scott Hanson, and see a few highlights from the last season.

ESCANABA---Escanaba high school pitcher Jared Hanson Monday night committed to attend school and play baseball at Central Michigan University. He was recruited by former college pitcher and Negaunee native Tony Jandron, who's on the Chippewa coaching staff.

"It's a really great fit for me," Hanson said. "I really love the coaches there and the (CMU) culture in general. It was the perfect place. Central has been my dream school all along. It was a dream come true to get that offer and now, to have that committment."

Hanson will be a senior next year at Escanaba, where he has a 4.0 grade point average. Hanson is currently playing travel ball across the Midwest for an ISA team based in Wisconsin. His father is Eskymo varsity baseball head coach Scott Hanson.

"I see the stuff behind the scenes that most people don't see," Coach Hanson said. "Workouts at home, working in the weight room. He's just totally focused on doing this. The one thing that's really opened the door for him is his academics."

Indeed, the high grade point average and high SAT scores helped make it easier for CMU to make the offer to the left-handed pitching Hanson, who was clocked at 88 miles per hour this spring while bouncing back from shoulder issues. The younger Hanson says he's healthy now.

"It's a walk-on spot and I get most of tuition paid for with academics," Jared Hanson said. "It's a pretty solid situation for me. When I get there, they'll have me on a personalized program for throwing and lifting. But my senior year (of high school) is still on me. I just have to do the right things."

Hanson and his son just returned from a tournament in Missouri, where he pitched twice and Jandron was there to give him the offer. Hanson will pitch at another tournament this weekend at Wisconsin Dells before heading to tournaments in Indianapolis and Atlanta.

"A ton of time and effort and money," Coach Hanson said. "But to get to D-1, or any level of college baseball, it's a huge commitment. We're proud of Jared."

If Hanson makes the roster at CMU, he will be the second Eskymo to reach the NCAA-I level in recent years. Eskymo 2019 graduate Gabi Salo is a pitcher on the University of Wisconsin softball team.