ANOTHER TIGHT ONE: Indians Outlast Cubs, 5-3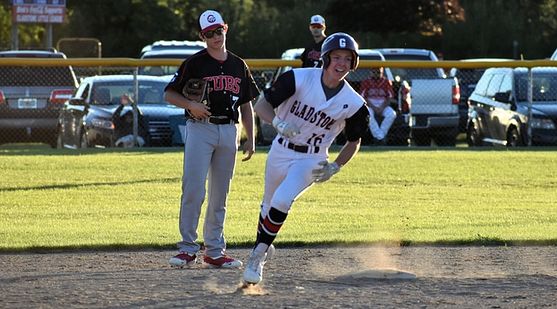 Click the thumbnails to see photos taken by Sheila Olsen, and to see videos and hear interviews with Johnny Soderman and Indians Manager Scott Kwarciany. Also see/hear comments from Junior Indians pitcher Gavin Frossard.

GLADSTONE---The Gladstone Indians American Legion Baseball team got timely hitting and beat the Escanaba Cubs, 5-3, Thursday night at Don Olsen Field.

Johnny Soderman hit his first-ever home run as part of the Indians win.

Soderman, who just finished his freshman year at Gladstone High School, took a Hunter Lancour fastball over the left field fence. It was his first-ever home run (since 9-and-10 year-old Little League, anyway) and it stunned not only the Escanaba pitching ace, but also Soderman.

"I can't believe it," a smiling Soderman said. "I just seen a first-pitch fastball, right down the plate, and I just swung. I thought it was gonna be a pop fly, but then I heard everybody just going crazy, and I just got excited. It's just so amazing. I just can't believe it."

And it was not the typical wind-blown Don Olsen Field home run, either. And it came against Lancour, who struck out ten Indians batters Thursday night and gave up just five hits.

"I thought he was going to hit me with those curveballs, and I'm not that good with curveballs," Soderman said. "But he hit me with the first-pitch fastball. And I just let 'er rip."

It was not the game-winning run. Gladstone was already ahead 4-3 at the time of that fourth inning shot. But Indians Manager Scott Kwarciany said it meant more than just one run.

"Johnny is one of those kids who we brought up from the junior team because we knew we were going to need second base help," Kwarciany said. "He's been struggling with his hitting but he's been getting better every game. What a confidence booster, not only for Johnny, but for the whole team in the dugout. You could just see the excitement.

"When I saw the ball go over the fence, my thought was to make sure he touched all the bases. He wass so pumped. Especially against a pitcher like Lancour. He throws hard and he's a great pitcher."

The home run was the most dramatic moment of the game, but it was not the only moment. The game boiled down to Escanaba missing out on multiple scoring chances, and Gladstone taking advantage of its opportunities with men in scoring position.

Escanaba stranded eleven base runners, five of them in scoring position. While the Indians managed five hits against Lancour, and three of those hits brought in runs.

Lancour's RBI single put Escanaba on top 1-0 in the first inning, and the Cubs had three hits in that inning before Gladstone pitcher Trevor Hanson got the final two outs of the inning. The Indians tied the game in the bottom of the first inning on an RBI single by Ryan Polley.

Escanaba took a 2-1 lead in the second inning when Riley Lamb walked and scored ona wild pitch, but Tyler Darmogray came through with a two-out, two-run single in the bottom of the second inning to put Gladstone ahead, 3-2.

The Cubs got even in the top of the third when Lancour got his second hit of the game, and he eventually scored on a throwing error. But the Cubs stranded two more runners that inning.

Gladstone went ahead 4-3 in the bottom of the third when Caden Alworden walked, stole second, and scored on a base hit by Dayton Bernson.

Kwarciany took Hanson off the mound when the fourth inning began, bringing in Mason LaChance to pitch. As part of that double switch, Soderman came in to play second base and went into Aedan Creten's #9 spot in the batting order. It worked in an unpredictable way.

LaChance walked three batters and hit another, and two runners reached against him on Indians errors. But he got out of trouble every time, including in the sixth inning, when Lancour smoked a shot toward left field that was caught by Darmogray.

Darmogray threw to first base to double Nick Kolich off the base to end the inning.

In the seventh inning, an error and walk put two men on base for the Cubs. With two out, LaChance got Trent Lawson to ground out, ending the ballgame.

Gladstone improved to 4-5 on the season (4-1 after an 0-4 start). The Indians are off until after the holiday, when they have doubleheaders against Marquette and Menominee, and a rematch with the Cubs in Escanaba.

Escanaba fell to 3-4 on the season. The Cubs will host Iron Mountain in a make-up game Friday night at 8:00. The game will be broadcast live on WCHT-Radio (FM-93.5/AM-600) in Escanaba and WZNL-FM (94.3) in Iron Mountain.

JUNIOR GAME: GLADSTONE 8, ESCANABA 4---Gavin Frossard pitched a complete game as the Gladstone Junior Indians turned back the Escanaba Junior Cubs. Frossard gave up just three hits and played over five Gladstone errors.

Frossard gave up only one earned run.

"I didn't really have the curveball working today," Frossard said. "Occassionally, it was working. But I was mainly just sticking to locaating to my fastball. They were just popping it up or just hitting it mainly to center."

Noah Peterson had three hits, including an RBI triple. Escanaba got a two-run triple from Chase Cloutier. Cubs pitcher Tony Derkos took the loss, allowing nine hits and seven runs over 5 1/3 innings. Only four of those seven runs were earned runs.