Iron Mountain Cruises Past Bark River, Escanaba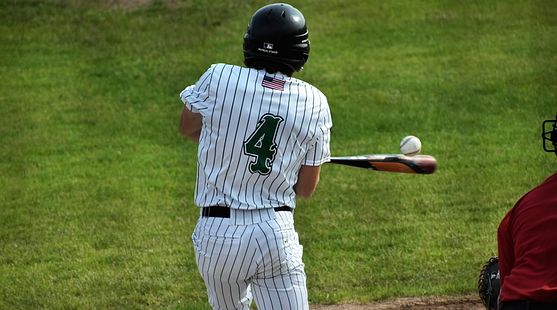 Click the thumbnails to see photos and videos, and see/hear interviews with Henry McRoberts and Tony Kravolec...as well as IM Coach Paul Julian.

ESCANABA---The Iron Moumtain American Legion Baseball team picked up two more wins on Friday, beating the Bark River Bucs, 10-2, and then topping a shorthanded Escanaba team, 7-0, at Escanaba's Al Ness Field.

The first game of the night was moved from Bark River to Escanaba to allow the Golds, wearing Greens uniforms on this night, to play two games on one field.

And the matchup saw two top pitchers: Iron Mountain's Blake Julian and Bark River's Nick Javurek. Both threw well enough, but Julian, with help at the end from Kody Hendricks, got the upper hand despite a complete-game effort from Javurek.

The second game saw the Cubs play without six of their starting nine players. That put a lot of younger guys in the line-up for Coach Jon Bintner, with no extra players available (other than Bryce Blixt, who came over from Manistique to help out but has a bum knee).

Drew Rodman did his best on the mound for Escanaba in the night game, giving up a triple to Julian and an RBI single to Evan Hefferkorn in the first inning. But Rodman kept the depleted Cubs lineup in the game by wiggling off the hook any time IM got men on base.

Escanaba, without expierenced hitters in the line-up, could not take advantage of seven walks from IM pitcher Tony Kravolec. He struck out ten batters in five innings of work, and the Cubs didn't come close to getting a base hit.

Rodman kept it close into the sixth inning, though, and third string catcher Connor Aiken did his part by throwing out two men trying to steal second base in the first three innings.

IM took a 2-0 lead over Escanaba on a walk, stolen base, and wild pitch. Then in the bottom of the fifth inning, Kralovec walked two men, putting the tying runs on base. Adam Willette smoked a shot up the middle that hit Kralovec in the ankle. It boumced all the way over to first base. That's how the Cubs threat ended, and it also ended Kralovec's pitching effort.

Gannon Bray finished on the mound, and gave up hits to Noah Lancour and Willette, but did not allow a run.

Escanaba's defense then fell apart in the sixth inning as Iron Mountain scorfed five unearned runs on two dropped fly balls in the outfield, a missplayed infieldf pop fly, and a pair of walks.

In the earlier game, Henry McRoberts was the big hitter from the eight hole for Iron Mountain. He had three straight run-scoring hits, and in his fourth at-bat, he also brought in a run with a ground ball. Gannon Bray was on base four times: a double, triple, and two walks.

Bark River's first run came on a sacrafice fly from Noah Goirzinski in the first inning, but that was the only time the Bucs would hold the lead. Max Hall's RBI single in the fourth inning brought home the other Bucs run.

Julian had trouble with walks, issuing six free passes to Bucs hitters. But he struck out eight and allowed only three base hits. Kody Hendricks finished the final 1-1/3 innings after Julian ran out of pitches. He did not allow a walk or hit, and struck out three of the four outs.

Javurek threw all seven innings for Bark River, who lost of the third time this season to the Golds. He gave up 13 hits and ten runs, but only five of the runs were earned.

Bark River returns to Escanaba to play the Cubs Monday night at 7:30. Iron Mountain has a round-robin tournament on Saturday in Felch against Niagara and Copper Country.