LATE, SOGGY NIGHT: Bark River Stops Escanaba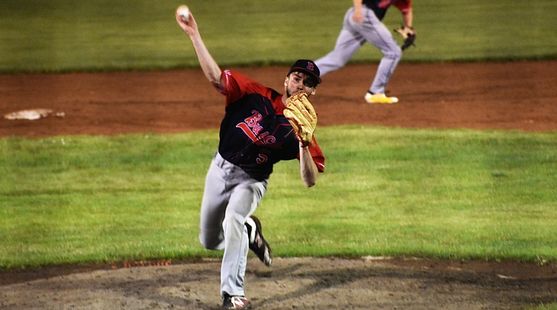 Click the thumbanils to see photos and videos, and see/hear interviews with Bucs pitcher Noah Gorzinski and Bucs coach Matt Richer.

ESCANABA---The Escanaba Cubs and Bark River Bucs American Legion baseball teams waited out a 1 hour, 44 minute rain delay Monday before the Bucs took advantage of Cubs mistakes to post a 9-1 victory at Al Ness Field.

The first pitch was thrown out at 9:14 for a scheduled 7:30 start, and, luckily, the pitching was goood most of the night so the game didn't stretch past midnight.

Escanaba's Riley Lamb and Bark River's Noah Gorzinski were involved in a pitchers duel for five inning before Lamb tired, walking four batters in the sixth inning.

Those runners all scored.

The field was under water when the teams arrived, but the boys from both teams, coaches, and parents grabbed rakes, brushes, and multiple bags of "dry sand" to get the infield playable.

Once the game started, under hot, humid conditions, it was a quickly-paced game, with home plate umpire Doug Laviolette getting innings moving in a timely matter.

Good pitching helped, as Lamb retired the first nine men in a row, and he struck out the side in the third inning. And the Cubs got the first run of the game on a Nick LaFave walk, Tyler Lawson single, and two-out RBI single to left field for Jack McEvers.

The Bucs grabbed the lead in the top of the fourth inning. Nick Javurek led off with a single, stole second, went to third on a groundout, and scored on a grounder by Johnnie Robinette. The ball was missplayed by the Cubs shortstop, so Robinette was safe.

With two out, Ian Gorzinski battled Lamb through an eight-pitch at-bat before dumping a base hit into left-center field, bringing home two runs and giving Bark River a 3-1 lead.

Grant LaMarche smoked a leadoff double in the bottom of the fourth inning, but was stranded there when Noah Gorzinski got two strikeouts and a pop up.

Finally, in the sixth inning, things fell apart for Lamb. He walked the first four batters he faced, and then LaMarche came on to pitch. Four runs came home on wild pitches with runners on third base, Ian Gorzinski had his second RBI hit, and another run scored on a strikeout when the ball got away from the catcher.

All of a sudden, it was 9-1.

Escanaba loaded the bases in the bottom of the sixth on two errors and a walk, but Gorzinski got Adam Willette to hit into a 1-2-3 double play to end the inning.

Gorzinski got within one out of a complete game in the bottom of the seventh when he reached his 105-pitch count limit. His brother, Ian, got the final out.

Noah Gorzinski allowed only four hits and three walks while striking out ten and one run in 6 2/3 innings. Lamb took the loss, yielding only three hits but walking five batters and was charged with seven runs in five innings. LaMarche struck out four batters in the one inning he worked because one of the third strikes was a wild pitch. He was charged with two runs.

Willette pitched a 1-2-3 inning for Escanaba.

Bark River improved to 4-9 on the season. Escanaba fell to 3-7.