GAHHLLEE! 'Opie' Clubs Two HR In Cubs Victory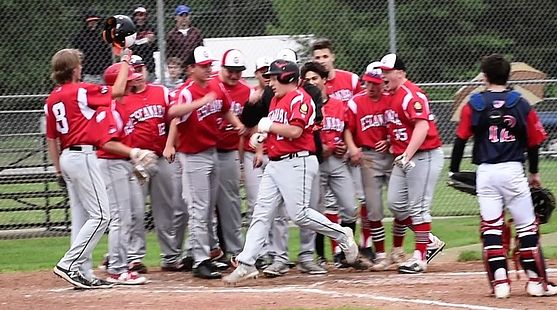 Click the thumbnails to see pictures and videos taken by Brad Landis, and see photos and videos from the Junior game.

GLADSTONE---Noah Lancour smacked a pair of two-run homers Monday night to lead the Escanaba Cubs to a 8-5 win over the Gladstone Indians at Don Olsen Field.

Lancour, better known by his nickname "Opie" from Andy Griffith fame, had only one home run before Monday, and that was in a Bay College scrimmage game. Otherwise, Lancour was, for the most part, a pitcher for the Norse. But he came up clutch at the plate early for the Cubs as they built a 7-0 lead and held on to post their second win of the season over Gladstone.

"I just seen two strikes and I barreled them up, and there they go! They went out," Lancour said. "It feels amazing. Just to know that our team performed really well. That gave me energy and I hit 'em out! It's an amazing feeling."

The game was played in Gladstone as a last-minute change because the Cubs' home field, Al Ness Field, was flooded by three straight days of rain. By contrast, the Indians' field on the top of the Gladstone bluff was bone dry. And Lancour and his teammates made themselves at home.

They scored three runs in the first inning and four in the second off Indians starting pitcher Tyler Darmogray. Besides Lancour's two home runs, Hunter Lancour added an RBI double and RBI groundout, and another run scored on a wild pitch.

Had Noah Lancour not had the sudden offensive outburst, the Cubs player of the game certainly would have been Jack McEvers. The Manistique High School student played a fantastic third base, making six putouts in the first three innings, two of them not on the easy side.

McEvers made all three of the defensive plays in the third inning. He also had two of Escanaba's seven base hits.

Gladstone did not go quietly after falling behind 7-0. They scoed single runs in the second and third innings as Noah Lancour struggled on the mound with his curveball. He hit four batters and both runs came in on passed balls. Then in the fifth inning, Lancour gave up a base hit to Darmogray (his second hit of the game) and a single to Caden Alworden.

After Lancour hit Dayton Bernson with a pitch, two more runs came in on passed balls, and all of a sudden, it was a 7-4 game. Lancour was taken off of the mound and was relieved by Drew Rodman. Nick Martin's suicide squeeze bunt brought in Gladstone's fifth run, but Rodman got out of the inning with a 7-5 lead.

Meanwhile, Gladstone pitcher Drake Forrest came on in relief and kept his team in the game after Darmogray left the mound after two innings. Forrest. Noah Lancour's teammate at Bay College, threw three straight 1-2-3 innings and retired ten in a row before running into problems in the sixth inning. It was Forrest's first pitching performance since the two teams met in the season opener back in mid-June due to arm issues.

Forrest allowed only one hit in his five innings of relief but ity cost him. Connor Aiken led off the sixth inning with a double to the left field fence and he scored on a Tyler Lawson sacrafice fly. A wild pitch had moved Aiken to third base.

Gladstone (4-6) had one more chance in the bottom of the sixth inning when Rodman walked two batters and hit another. But with the bases loaded. Alworden hit a flare toward the outfield that Hunter Lancour snared at short. He touched second base for the double play.

Noah Lancour got the pitching win for Escanaba (4-7) with 4 2/3 innings of work. Rodman earned the save. Darmogray took the loss for Gladstone and Forrest got a no-decision.

Gladstone won the junior game, 12-2, over Escanaba, in five innings.

The Cubs game this Friday in Marquette is cancelled. Their game next Wednesday in Iron Mountain has now been moved to next Thursday, and that's the next time that Escanaba is scheduled to play a game.

The Indians will host Menominee in a special game Thursday night. The details are posted in this press release:


The Gladstone Indians Baseball Program is Pleased to Announce, that the First Annual Gladstone American Legion Christian Groleau Memorial Baseball Scholarship will be Awarded to a 2021 Graduating Senior on Thursday, July 8th, at 6:30 pm, during the Gladstone Senior Indians Game vs. the Menominee Red Wave, at the Don Olsen Field in Gladstone.

The $500 Scholarship Winner will be Selected based upon the Following Criteria ... A True Leader, on and off, of the Field, Always Demonstrating Outstanding Sportsmanship, is Highly Motivated and Helps Motivate and Inspire, Other Team Players, as well !

Also, the Scholarship Recipient must have Played for the Gladstone Indians, during the 2020 Season, as well as, Currently Playing Now, during the 2021 Season.

Jim and Char Groleau, Christian's Parents, will Present the Annual Scholarship. Christian Played for the Gladstone Senior Indians on the 2014 State Championship Team !

A Tree Dedication, in Memory of Christian, will also take place during this Special Evening!
Please Spread the Word to Your Friends, Family Members, Fans, Former Team Players, Coaches, etc.
Thursday's game will be broadcst live on FM-93.5, AM-600 and www.rrnsports.com.
---MORE---