Gladstone Honors Former Player; Rallies For Win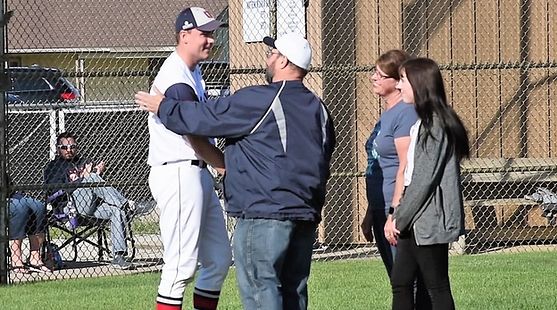 GLADSTONE---The Gladstone Indians American Legion baseball team rallied from a 3-0 deficit to beat the Menominee Red Wave, 8-4, Thursday night in Gladstone.

It happened after a pre=game ceremomy in which Gladstone player Dayton Bernson was awarded a $500 scholarship named after the former Indians player Christan Groleau.

Groleau was a member of the 2014 state champion Indians team, and was popular in the Gladstone baseball community from the time he was nine years old all the way up till his Legion days. He killed himself in January, 2020, something his father, former Indians Manager Jim Groleau, says shoud not be hushed up.

"It's hard, but it's a reality," he said. "We need to focus more on getting the word out there that suicide is real and mental health awareness needs to be brought fore-front. We're going to do whatever we can to do that and keep his memory alive."

The scholarship will be awarded every year by the Gladstone American Legion, with Bernson having no idea that he had been selected until a ceremony right before the game. Groleau says it is an incredible way to remember his son, and to help other baseball players pay for college.

"It really means a lot that the Legion has stepped up and honored Christian, and brought us back into this to enjoy the stuff that he loved," Groleau said. "I mean, this is what he loved."

In the game iteslf, the Red Wave had control early as Marian University's Andrew Schroeder took Trevor Hanson's second pitch of the game over the left field fence for a solo home run. Before the first inning was over, Chad Kenney and Ashton Barstow added RBI singles, and Menominee had a 3-0 lead before Gladstone even came to the plate.

And Schroeder was tough on the mound early, striking out the side in the first inning and fanning seven Indians batters in the first three innings. He did not allow a hit.

But in the fourth inning, after Hanson settled down on the mound for Gladstone and put three goose eggs on the scoreboard, the Indians finally got to Schroeder.

Mason LaChance broke the ice with a booming double up the gap to the fence, then Johnny Soderman, who barely missed a home run with a foul fly to left field earlier in the game, smacked a double off the left field fence to put runners at second and third.

Aedan Creten followed with an RBI base hit deep in the hole at short, and Elijah Shier contributed an RBI single to right field. That tied the game at 3-3, and with two out, Caden Alworden went down for a two-strike pitch and ripped it to center field to put the Indians in the lead.

Gladstone addeed four more runs in the bottom of the fifth inning with Soderman smoking another double, this time bringing home a run, and Shier getting his second run batted in with a ground ball to short with a man on third base.

The final run came home when Bernson came off the bench to hit a RBI single to the left side of the infield.

Menominee (2-8) had one last chance in the final inning. LaChance replaced Hanson on the mound in the sixth inning and he hit two batters and gave up hits to Kaeden Calcari and Ethan Russell. A sacrafice fly by Matt Mellinger brought in one run, but with the bases loaded, Soderman made a sliding catch in left-center field on a shot by Zach Starzynski.

The Indians improved to 5-6 on the season and will host Iron Mountain in a single game Sunday night at 6:00. Then the Indians will play in Bark River Monday night.

The Red Wave will host Bark River Sunday afternoon in a doubleheader. Menominee has played just one of their first ten games at home so far this season.