EUP Wood Ducks Rally Past Shorthanded Iron Mtn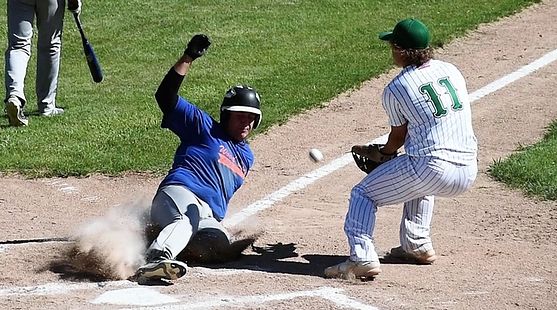 IRON MOUNTAIN---The Eastern Upper Peninsula Wood Ducks scored seven runs in the final inning Friday to rally past Iron Mountain, 10-6, at Liuna Field in Iron Mountain. The IM Greens played without nine of their 18 players due to a variety of other commitments.

"Some of them were gone for the Association (junior legion) tournament up in Escanaba," Julian said. "A couple of kids gone fishing, some of the kids gone wrestling. So we were short-staffed today."

Indeed, the Greens had nine guys for the first game of what was scheduled as a doubleheader, with Zeke Runsat playing at that tournament in Escanaba and then racing back to Iron Mountain to play in the senior game.

Early on, though, it looked like Iron Mountain would squeak out a win as they built a 6-1 lead after three innings. Blake Julian had an RBI double and Hunter McCarthy added an RBI single in the first inning, then IM scored four times in the third inning against EUP pitcher Jacques Lablanc. The Greens took advantage of five walks, and McCarthy cashed in with a two-run single as Iron Mountain took a 6-1 lead.

And with Blake Julian on the mound, that's usually enough for an IM win. But not this time.

In the fourth inning, Julian walked two batters and gave up a single, but got out of trouble when the defense turned a 6-4-3 double play behind him. In the fifth inning, Julian gave up two walks and hit a batter as he struggled with the strike z0ne, as well as the mound.

Julian fell off the mound and injured his ankle. He was down for a couple of moments, but he decided to fight through the pain and continued to pitch. Julian gave up an RBI single to Bay College player Dalton Graham but got out of the inning with a 6-3 lead.

Iron Mountain had plenty of chances to add on to the lead but Julian grounded out to end both the third and fifth innings, leaving five men on base, four of them in scoring position.

In the final inning, Julian tried to finish up but fell down again on the mound, further injuring the ankle. He walked three men and finally gave way to Caleb Evosovich. The EUP took advantage with two timely hits, as Avery Wilson hit a bases-loaded shot down the left field line (off the chalk) to bring in two runs and cut the IM lead to 6-5.

Then Michael Bontrager bounced one up the middle to bring home the tying and go-ahead runs. A wild pitch scored the 8-6 run, then a throwing error by Julian at short allowed the final two runs to score.

EUP Coach Kris Bontrager was happy with the win, but even more happy to just play a game. His Wood Ducks team played five games in Escanaba three weeks ago, making that tournament's semifinals with a 2-2 record. They lost to Iron Mountain in the tourney semifinals to finish 2-3 and since that time, EUP has played only two games.

"We're having a hard time getting any games in because it's been so stinking wet,' he said. "So, we'll drive wherever we have to drive to get onto a dry ballfield. It's always fun to go on the road with each other and hang out at the hotels a little bit and see what kind of mischief we can get into."

EUP (5-3) will play a doubleheader in Marquette Saturday afternoon.

The Greens and Wood Ducks tried to play a second game Friday night. But IM had trouble keeping nine guys on the field as two guys who played in the first game, Zach Spera and Evosovich, had to leave. Runstat tried to help out by pitching, and former IM player Jesse Julian suited up despite having stitches in his hip.

And Blake Julian tried to play third base on that severely-injured ankle. It didn't go well.

Runstat struggled with the umpire's strike zone (he wasn't the only one) and walked five men in the first inning and gave up three runs.

The two Julians couldn't continue playing because of their injuries, and IM brought in two girls, Blake's sister Miranda and Carly Schnieder, to play in the outfield. After EUP scored three more runs in the second inning, and Jesse Julian's girlfriend, Hallie Chaperon, serving as the IM pitching coach, home plater umplre Paul Grenier put an end to the game.

It ended with EUP leading, 7-1, and will not count as an official game.

Iron Mountain fell to 19-5 on the season and will hope for a better outcome Sunday night in Gladstone. That game will start at 5 CT/6 ET and will be broadcast live on FM-94.3 in Iron Mountain, FM-93.5/AM-600 in Escanaba, and on-line at www.rrnsports.com.