Marquette Blues Beat Mistake-Prone Greens, 10-0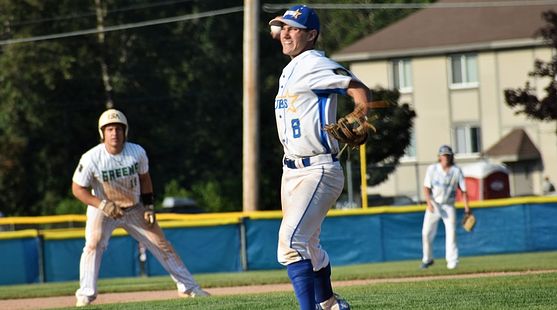 Click the thumbnails above to see photos and listen to interviews with Justin Wenk and Managers Derek Swajanen and Paul Julian.

MARQUETTE---The Marquette Blues American Legion baseball team took advantage of ten walks, five errors, and three hit-battsmen to roll past the Dickinson County Greens, 10-0, Tuesday night in Marquette.

Justin Wenk threw a complete-game two-hitter on the mound for the Blues.

"Normally, I just try to get them to hit the ball and have the defense do the work," Wenk said. "I normally don't have many strikeouts. So I do have to thank my defense almost every time I'm out there, and that was what happened tonight."

The Iron Mountain defense, though, was not very sharp. There were four errors in the bottom of the first inning, including two on one play, as the Greens could not handle the bunt by Erik Johnson after Hogan Nemitz was hit by a pitch and Jake Peterson was safe on a different throwing error. Two walks didn't help Greens pitcher Andrew Paupore either.

So Marquette scored three runs in the bottom of the first inning on no base hits. They added a run in the second inning when Nemetz walked, Peterson slapped a base hit, and Brock Taylor brought Nemetz home on a ground ball to third to make it 4-0.

That was all for Paupore, as he gave way to Tony Kralovec on the mound. Kralovec but up scoreless third and fourth innings, but he alked three guys in the fifth inning and hit Peterson with the bases loaded to force in a run.

In the sixth inning, Niko Burgoon came in to pitch and he also walked two guys and hit another, and he gave up a two-run single to right field by Parker Maki. Burgoon was also called for two balks, including one that forced home the game-ending run.

The closest Iron Mountain came to scoring as in the top of the first inning, when Blake Julian was hit by a pitch, stole second, and went to third on a base hit by Hunter McCarthy. As McCarthy stole second, Julian tried to score, but was tagged out by Peterson at the plate.

The Greens only got one more base hit, by Henry McRoberts, who got a one-out single in the sixth inning. He was thrown out trying to stretch that into a double.

Wenk faced only 20 batters, just two above the six-inning minimum of 18.

"The boys went out and did their jobs," Marquette Manager Derek Swajanen said. "That's all you can ask of them. Wenk has been a consistently-solid ace all year. He just continued to pitch well, and he got them to hit a lot of easy fiy balls. Offensively, we did enough. We took advantage of a lot of walks and hit-battsmen."

Marquette had just four hits. The Blues improved to 13-6 on the season and will host Escanaba in a make-up game Wednesday night. Game time is 6:00 and you can hear it live on FM-100.3 in Marquette, FM-93.5/AM-600 in Escanaba, and on-line at www.rrnsports.com.

Iron Mountain (21-6) will host Escanaba in a rescheduled game on Thursday.