Escanaba Tennis Team Rolls To Another 8-0 Victory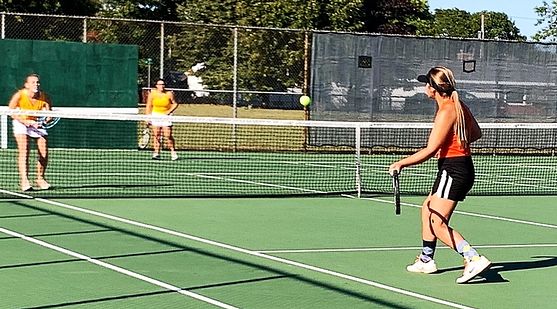 Click the thumbnails to see photos courtesy of Eskymo athletics

ESCANABA---The Escanaba High School girls tennis team rolled to their second straight 8-0 win on Wednesday, beating the Kingsford Flivvers, 8-0, in Escanaba.

The Eskymos also swept Marquette on Tuesday, 8-0.


"We split with Kingsford 4-4 when we played them back at the beginning of the season, so I wasn't sure just how we'd stack up today," Escanaba Coach Chris Ogren said. "Our girls really came to play though, and did a great job of finishing off every set they played."

Escanaba won all eight flights in straight sets against Kingsford on Thursday.

At #3 singles, Escanaba's Lizzy Sliva had to fight off some long points in defeating Kingsford's Jenna Olkkonen, 6-2, 6-4.

"Lizzy played the longest match of the day at #3 singles, and despite being plenty tired by the end, she finished strong," Ogren said. "The wind was strong today, so the match was as much about mental toughness in the elements as it was about the ability to hit the tennis ball."

Escanaba's #1 singles, Sophia Derkos, was dominant, sweeping 6-0, 6-0, past Kingsford's Ashlyn Blaskowski. And at #2, Natalie Wiliams rolled to a 6-1, 6-1 win over Meagan Dooley.

Escanaba alsoswept the doubles flights, led by Paxton Bullenand Lily Newhouse at #4 doubles. They pulled out a 6-4, 7-5 win over Kingsford's Lexie Vross and Ellyce Doenier.

"Our 4 doubles team did a great job of beating a tough Kingsford team today," Ogren said. "We had lost to the Kingsford 4 doubles team twice this year, and this was the first time we were able to beat them. With GNCs right around the corner next week, we need to be playing our best tennis, and right now the girls are putting in the necessary effort to see good results."
THURSDAY'S OTHER UP SCORES

NEGAUNEE 7, MUNISING 1---
The Miners stayed undefeated with a 13-0 record.