GNC CHAMPIONS: Eskymos Win Girls Tennis Title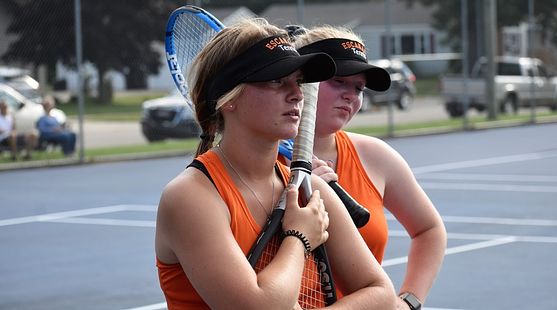 MARQUETTE---The Escanaba Eskymos won the Great Northern Conference championship Wedmesday in Marquette. The Eskymos made the finals in seven of the eight flights.

Sophia Derkos won the #1 singles title for Escanaba. She beat Gladstone's Addie Trombley, 6-3, 6-0, after rolling past Marquette's Kaia Miller, 6-0, 6-0.

"Sophia Derkos played tremendously, while only losing 3 games total, on her way to a big time win at #1 singles," Escanaba Coach Chris Ogren said. "Addison Trombley was hitting the ball very well for Gladstone, but Sophia was dialed in. It was a great match."

The Number two doubles team of Erica Moore and Delaney McIntyre won the GNC title and remain undefeated on the season. They beat Marquette's Hossana Brindle and Jenna Hassell, 6-2, 6-1; and Kingsford's Macy Holmes and Maggie Menghini, 6-0, 6-4.

And at number one doubles, Gracie Wickham and Abby Hill won a surprise championship for Escanaba. They defeated Menominee's Lennedy Olson and Anna Nerat, 6-4, 3-6, 7-5.

"The finals put Abby and Gracie up against Menominee, who they had lost two twice already this year. Today, however, they were able to get the job done," Ogren said. "It was the last match going, and it was intense the whole way through. These two have put in so much time and effort this year, and I was overjoyed to see them pull through and win the biggest match of their season."

Wickham and Hill also beat Gladstone's Emma Wagner and Montgomery Pepin in another tight match, 3-6, 6-4, 6-1. And the duo beat Munising's Maci Cornish and Skylar Campbell, 6-1, 6-0.

Other champions were Menominee's Rylee Doyle at #2 singles, and Brynlee Nodurft of West Iron County at #3 singles. Kingsford's #3 doubles team of Addie Rutter and Linnea Grub, and Marquette's #4 doubles team of Payton Bullock and Payton Pleaugh won GNC championships.

Escanaba won the team score 26-13 over second place West Iron County.

"I could go on and on about every girl on this team, because they all played just so well today," Ogren said. "We had 4 teams finish in second place, #2 singles Natalie Williams, #3 singles Lizzy Sliva, #4 singles Sam Manninen, and #4 doubles Lily Newhouse and Paxton Bullen. #3 doubles Leslie Purcell and Sonya Maki, were able to win a close 3-set match to finish 3rd in their flight."

Menominee was third on Wednesday with 12 points, Gladstone was fourth (11), followed by Marquette and Kingsford (nine points each) and Munising was in last place with no points.

"It was great to win this tournament today, but we have more work to do to be ready for some big matches next week," Ogren said.

Escanaba will have a make-up match against Negaunee on Monday at Kingsford High School. That will be at 1:00 ET. Then the Eskymos will travel cross-town to Iron Mountain for their regularly-scheduled match at 4:00 ET.

Escanaba then returns to Kingsford on Wednesdsay Sept. 29 for the U.P. Finals.