Hughes Extends Winning Streak; Marquette Rolls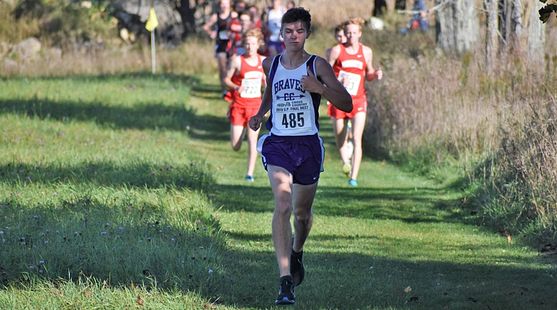 Click the thumbnails to see pictures, plus videos from the end of the girls race, plus the start, middle, and finish of the boys race. Also hear comments from Gladstone winner Drew Hughes and Marquette winner Monet Argeropoulos.
FLAT ROCK---Gladstone cross country runner Drew Hughes won his ninth straight race, while the Marquette boys and girls teams continued their dominance on Tuesday at the Farmhouse Invitational in Delta County.
The race also saw new Holy Name Catholic school participate for the first time.
In the girls race, Marquette won with 23 points. Gladstone was second with 37, and Escanaba was third with 78. In the boys race, Marquette won with 20 points, followed by Escanaba with 66 points and Gladstone with 74.
The individual champion in the boys race was Gladstone's Drew Hughes, who won his ninth consecutive race, finishing the course in 16 minutes and 47 seconds.

"I feel really good about it," Hughes said. "I could have done a lot better, but today, I was a little bit sore from last weekend up in the Soo. But today, I just wanted to fight through it."

Marquette had the next four spots, with Carson Vanderschaaf finishing in 17:03, Colin Vanderschaff taking third in 17:42, Brady Ketzenberger in 18:01, and Cullen Papin was fifth in 18:11.8.
Escanaba's Daneiel Smith was eighth, finishing in 18:51.6, and Sawyer LaMarch was tenth, finishing in 19:05.3.
The individual champion for the girls was Monet Argeropoulos, who won by 15 seconds over teammate Courtney Larson (21:43 to 21:58). Gladstone's Jamisyn Bergeron was third with a time of 22:07.8, and the Braves' Sam Strassler was fourth in 22:21.

"It felt really good," Argeropoulos said. "It (the course) was pretty flat, so that was nice. I tried to go faster at the beginning, because I made that mistake (of not going fast) last week."
Escanaba's top runner was Ciara Ostrenga, who took sixth in 22:30.9.

For Holy Name, Joseph Carlson, Nick Mitchell, and Marcell Raiche ran the race. Carlson was the top Crusader runner, finising 19th in a time of 20:55.8. Mitchell was 40th (25:28.1) and Raiche was 41st (26:18.4).