U.P. Connection To NHL Sexual Abuse Revelations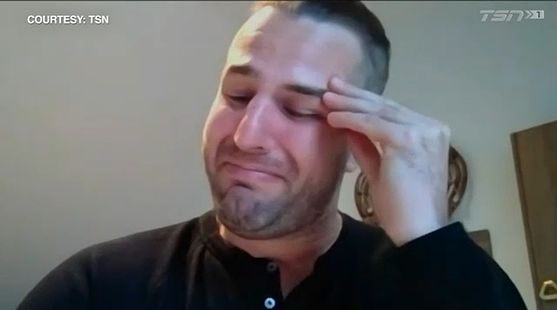 CLICK HERE to read the full detailed report. (TSN photo)

CLICK HERE to watch TSN's interview with Kyle Beach.

The man who allegedly sexually abused a National Hockey League player is from Houghton, and also allegedly assaulted a Houghton High School hockey player while he was an assistant coach with the Gremlins.

Former Chicago Blackhawks player Kyle Beach came forward yesterday to say that he was the man who was allegedly sexually abused in 2010 by Brad Aldrich, who was the Blackhawks' video coach during that Stanley Cup season.

Aldrich is from Houghton, and brought the Stanley Cup to his hometown for a day. Aldrich later helped on the Houghton Gremlins coaching staff, as well as the with USA hockey, Notre Dame and Miami Universities.

In a 107-page report filed by the law firm Jenner & Block, it is alleged that Aldrich forced Beach to perform oral sex on him in his apartment, and threatened to hurt Beach's NHL career if he told anyone.

Beach is listed only as "John Doe" in the report, but he revealed his identity during a lengthy interview on Wednesday with the Canadian network TSN.

This allegedly happened when Beach was 20 and Aldrich was 27.

In the complaint, Beach says that after giving him alcohol and turning porn on the TV, Aldrich started to kiss him, and after Beach objected, Aldrich allegedly pushed him down onto the couch and did sex acts on him.

Aldrich, also according to the investigator report, says the 2010 encounter was consensual.
Aldrich, though, was convicted of sexually abusing a Houghton High School player in 2013, while he was an assistant coach for the Gremlins.

According to the Houghton Mining Gazette newspaper, Aldridge was sentenced to nine months in jail, five years probation, and would be placed on Michigan's sex offender registry.

Aldrich also coached in the Marquette Junior Hockey Association between 2003 and 2006, according to the Mining Gazette.

Beach is suing the Chicago Blackhawks organization, and specifically suing several officials, including former Coach Joel Quenneville. Beach said on TSN Wednesday night that Quenneville did nothing about his allegation back then.

Quenneville now coaches the Florida Panthers. He refused to speak with reporters Wednesday night and said that he would speak with NHL Commissioner Gary Bettman on Thursday before making any public statement.

The Florida Panthers will play in Detroit against the Red Wings on Friday.