ANOTHER CLASSIC: Esky Rallies Past Manistique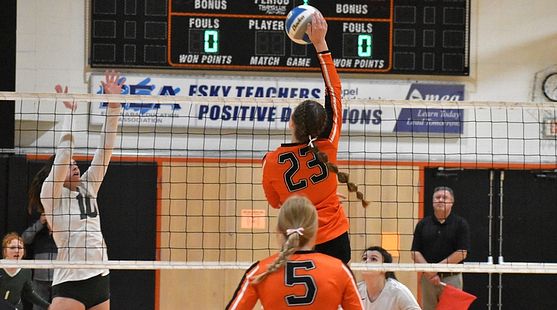 Click the thumbnails to see photos and videos, and click the AUDIO buttons for post-game comments from both coaches and Esky's Katelyn Stalboerger.

ESCANABA---After the Escanaba High School volleyball team lost to the Marquette Redettes on Tuesday night, Eskymo Coach Adam Lambert looked ahead to Thursday night's regular season finale.

He predicted that the match with Manistique would go to five games, and he was right.

The Eskymos rallied from eight points down in the fourth game to force a fifth game, and the held off the Emeralds in the decisive fifth game to pull out another wild 3-2 match before a pair of raucous student sections Thursday night in Escanaba.

The scores were 18-25, 25-20, 23-25, 25-23, and 15-11.

"What a game," Lambert said. "Manistique's got a great, great program. I thought the officiating was great. The fans were great. It was just a great atmosphere here tonight. I think both sides were able to cover well, dig things up and do some gymnastics out there just to get the ball over. And not giving up."

It was also Senior Night for Escanaba's two 12th graders, Abby Rexford and Bailey Barron. And in their final regular season match, it was a wild roller coaster ride of emotions.

Katelyn Stalboerger had an incredible 33 kills, including five after the Eskymos trailed, 21-13, in the fourth set. They won that, 25-23, and then freshman Grayson LaMarche had three straight points in the fifth set to give Escanaba a 9-4 lead.

After Manistique cut it to 12-11, Stalboerger had two more big points, and Mya Whitson had the match-clincher ar 15-11. Stalboerger's 33 kills were a career high, and quite possibly were an Escanaba High School school record.

"I was just like, get me the ball, I'll hit it as hard as I can, and it really worked out," Stalboerger said. "It was very intense. I ust wanted to win it for our seniors because we've been working super-hard this whole season."

For Manistique, it was the second straight heartbreaking 3-2 loss to the Eskymos, after the teams also went five during a match in the Emerald City earlier this month. This time, the irls were just four points away from a four-set win, and led by eight, but couldn't close it out.

"Volleyball is a game of momentum, and it can switch on a dime if you let it, and they've got some good attackers," Manistique Coach Amy Nixon said. "I think that gave them an opportunity to go on runs, too. I feel like it was a back-and-forth battle all night. We made some changes defensively in the last week, and I think it's really working out well for us. So we just have to build on that experience of playing those new positions, and I think that tonight was a big step forward."

Ella Schuetter led Manistique with 21 kills.

Both teams head to district tournament play with road matches to begin, but knowing that if they win their opener, they will play at home in the second round.

Escanaba travels to Houghton Monday, and then would host Cheboygan with a victory. Manistique plays at Gladstone on Wednesday, and if the Emeralds win, they would host either Bark River-Harris, Iron Mountain or Menominee in the district championship match.