SENIOR DAY WINNER: Northern Blanks Tech, 2-0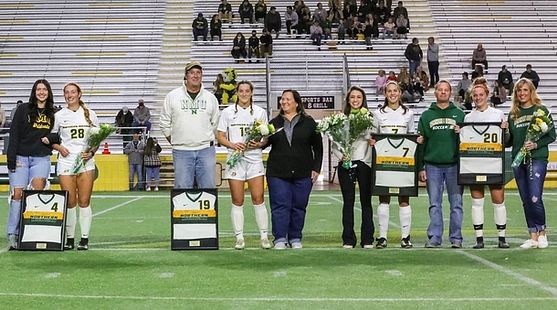 This story was written by NMU Sports Information

MARQUETTE, Mich. - The Northern Michigan University women's soccer team headed inside the Superior Dome for a Senior day match Sunday against the Michigan Tech University Huskies in the final game of the regular season.

The Wildcats defeated the Huskies 2-0.

Both sides were nearly even in the first half.

The Wildcats and the Huskies both landed 3 shots on goal.

NMU held possession 20-percent of the time inside the box on the attack which added up to the Wildcats having 56-percent of the possession total compared to the Huskies 44-percent.

The Wildcats got the last shot off of the first half at 41:48 which came from Caroline Halonen.

NMU went right down the field after the break as Isabela Cardoso ripped the first shot of the second half.

Calihan Bearden's first goal of the season broke the 0-0 tie. The Wildcats' Caroline Halonen launched a pass all the way down the field to Justina L'Esperance whose shot was denied, but redirected back out to Bearden who sniped her first goal of the season from just outside the box.

Northern put the game away late in the second half from a goal scored by Ashley Koch.

After a goal kick, headed by Gwen Kiilunen, Kiilunen hit Koch perfectly in stride to kick it just over the top of the Huskies goalie and into the net. Killunen was credited with the assist on the play.

Calihan Bearden and Ashley Koch both netted a goal in the Wildcats win. Gwen Kiilunen added an assist.

Justina L'Esperance and Isabela Cardosa both led the way with 3 shots on goal.

Goalkeeper Shenae Kreps finished the game with four saves in 90 minutes of action. The match marked her fourth shutout of the season.

NMU won the possession battle on the day with a mark of 55-percent.

"We are really excited. This win on Senior Day was great momentum for moving forward," said assistant coach Darian Powell. "We have a great team here that has what it takes to win."

"Today was a great start to the rest of the season!"

Josie Bos, Isabela Cardoso, Grace Filipiak, Erin Gibson, and Chloe Holt were all honored on Senior Day for all of their hard work and dedication to NMU Athletics.