Two Norse Runners Set To Compete At Nationals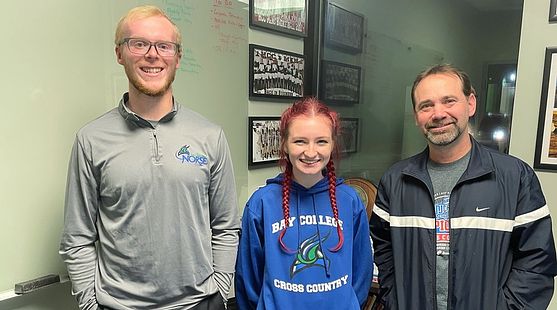 Click the thumbnails to hear interview with Rose, Cox, and Murtha

ESCANABA---It's been a frustrating year for the Bay College cross country program.

Low numbers and a few COVID issues led to the Norse competing in just two meets this season. They even had to cancel their only home meet of the season.

But there is some good news, as two Bay athletes qualified for the NJCAA National meet, set for this weekend in Mechanicville, Virginia.

Escanaba High School graduate Zach Rose will be competing at nationals for the second time, after competing at the meet in Iowa last year. And Gladstone High School graduate Lindsay Cox will be competing for the first time.

"It's different, not like any of the other cross country meets," Rose said. "It's bigger. Everybody's faster. But it's fun. I've just worked extremely hard the last four weeks, probably harder than I did last year, to get faster every single day. I hope I can produce the time I've ever had."

Rose said the last national meet he competed in was miserable.

"It was in Iowa, and it was 35 degrees with snow-slash-rain," he said. "This time it's going to be much nicer. Like 65 degrees."

For Cox, this weekend's meet will be her first on the big stage.

"Definitely running a lot, more than last year for sure, practicing every day for the most part, and some strength-training too," Cox said of her success this fall. "This course looks like a combination of a lot of the courses we've ran before, so I'm not really too worried about the course and how difficult it's going to be."

Bay College Coach Jim Murtha says it will be exciting for his two athletes.

"It's nice that they got an extra four weeks to practice, and improve themselves, go down to Virginia, and see how well they can compete," Murtha said. "They're going to do very well. We're hoping top third (out of 180 competitors) would be a realistic goal."

And Murtha says Rose and Cox going to nationals can only help his program grow.

"I think it will be good publicity for us and other people will realize, hey, it's not just local running," Murtha said. "We can go to nationals. That's a huge experience."

Cox agrees with that.

"For most of my life, I wasn't really a runner and I didn't like running very much," Cox said. "But last year, I tried it, and I actually really liked it. So, just trying it, definitely."

The two will drive to Appleton, Wis., and catch a flight to Richmond, Va., on Thursday. The race starts at 1:00 Saturday afternoon.