SIGNING DAY: Three Eskymos Heading To College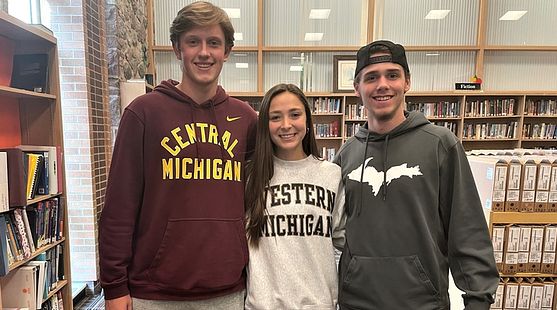 Click the thumbnails to see photos and videos from the signings, and hear interviews with Jared Hanson, Carsyn Segorski, and Hunter Lancour.

ESCANABA---Wednesday was collegiate Signing Day for several sports, including baseball and softball. Three Escanaba High School graduating seniors signed on the dotted line: Jared Hanson, Hunter Lancour and Carsyn Segorski.

Hanson signed to play baseball at Division One Central Michigan University. Segorski signed to play softball at D-1 Western Michigan University. And Lancour signed to play baseball at NJCAA member Delta College in Saginaw.

Hanson, who's specialty is pitching, has had a strong career for the Eskymos, interrupted both by the coronavirus pandemic and arm problems.

Still, his career stats were more than enought to attract the attention of the Chippewas, who have former Negaunee star Tony Jandron on the coaching staff. Hanson has thrown 52 innings for the Eskymos so far, with a 2.42 Earned Run Average and a 6-3 record. He had 56 strikeouts and just 23 walks.

"It's really great," Hanson said. "It's something that I've been dreaming about for a long time, and I can't believe it's finally here. The culture and the coaching staff is just something you can't find anywhere else. And being close to home, it was just the perfect fit for me."

Escanaba has had pitching success on the CMU roster before, with graduates Kevin Tapani and Kurt Lauscher both pitching in Mt. Pleasant. Tapani went on to a 13-year Major League Baseball career with three major league teams.

Lancour, meanwhile, chose the more economiclal appoach, hoping that being on the juniuor college Pioneer roster will pay dividends, given Delta's proximitely to Saginaw Valley State and Northwood Universities, among others.

"I figured, go two years there, go JUCO, and save a little bit of money," Lancour said. "Then, have some expsoure down there, and hopefully get to a D-2 (school) after the first two years."

Lancour has thrown 42 innings for Escanaba, with a 6-2 record. He struck out 53 batters and walked 32. Unlike Hanson, Lancour also bats. He hit .284 with an on-base percentage of .381.

On the softball side, Segorski is entering her senior season at Escanaba having been a varsity starter since her freshman year, winning a state championship in 2019 at shortstop before the 2020 season was wiped away by corona. The Eskymos lost in the regionals in 2021.

"I really love the atmosphere (at WMU)," Segorski said. "I was super-surprised by their campus. It's beautiful there, and I really love the coaching staff. I've been told that I was seen as a first-year starter, and so I'm hoping to get there and work hard right away, and hopefully make it out on the field."

Segorski batted .427 in 2021 with ten home runs and 39 runs batted in, scoring 40 runs and stealing 18 bases along the way. She earned All-district and All-regional honors, and was a Division Two All-State Honorable Mention selection.

Segorski will be trying to follow in the footsteps of former teammate and current University of Wisconsin pitcher Gabi Salo, as well as her sister Taylor, who played at Grand Valley State.