Bay College Women Start Fast, Post 20-point Win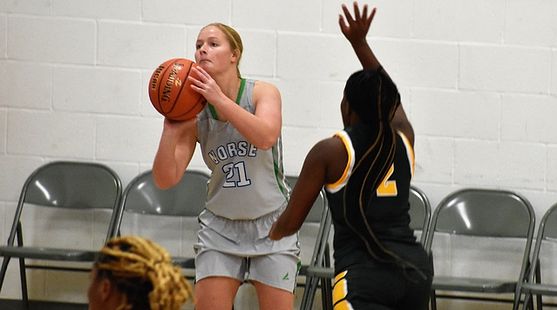 This story was written by Bay College SID Mike Pankow. Click the thumbnails to see photos and videos, and the AUDIO buttons to hear post-game comments from Alaina Turdeau and Coach Matt Gregory. Also click to hear Kennedy Englund player spootlight interview.

VIRGINIA, MN – The Bay College Norse Women's Basketball Team (2-2) snapped a two game losing streak by cruising to a 60-40 win at Mesabi Range Community College Norse (0-1).

Bay wasted no time jumping out to a lead as they started the game on a 16-0 run. Kennedy Englund (SO, Rock, MI) knocked down two big three-pointers in that stretch.

Mesabi Range finally got their offense started midway through the quarter and flipped the script. They answered back with nine straight points and found themselves down by seven after the first.

Bay College wouldn't allow Mesabi Range to stick around for long. After the host team pulled to within five in the early going of quarter two, Bree Arsenault (SO, Hermansville, MI) hit a jumper on the right side to make the score 20-13.

Kennedy Englund ended up with four three's in the first half, Andie Arsenault (FR, Hermansville, MI) added one of her own, and Cheveney Koski (SO, Rock, MI) was fouled as she knocked down a shot to cap off a 17-5 run. Bay College found themselves up 35-18 at the half.

Bay never surrendered the lead and kept the pressure on throughout. Their defense continued to stifle Mesabi Range in the third quarter, only allowing eight points in the frame. Bay would lead by as many as 27 points in the third quarter, allowing them to cruise to the big victory.

Bay had a solid shooting game, hitting 38.3% of their shots, while Mesabi Range struggled from the floor to the tune of 20.6%. While Bay College turned the ball over more than their opponents, 18-12, they would hold a decided advantage in the rebounding battle grabbing 50 of them to Mesabi Range's 34.

"I was really glad to see us bounce back after the last couple of close battles," commented Head Coach Matt Gregory. "It was nice to get some key contributions from a lot of different players in this one. We have been focusing on better shot selection, free throws, and defensive rebounds, and I thought we cleaned those things up today."

Englund ended up shooting five of 12 from behind the arc in the game and led all scorers with 15 points while grabbing four rebounds and dealing out two assists.

Andie Arsenault tallied 12 points, grabbed seven rebounds, and had three assists. Madison Olsen (SO, St. Ignace, MI) ended her game with 12 points and eight rebounds. Koski led the team in rebounds with 12, while Tianna Taylor (FR, Gwinn, MI) grabbed eight rebounds.

For Mesabi Range it was Sakhia Howard-Reynolds leading the charge as she was credited with 13 points and seven rebounds. Sophia Christofferson grabbed ten rebounds.

Bay College is scheduled to return home next weekend and will host the Bay College Fall Classic. On Friday they will play Harper College at 6 pm. On Saturday they will take on Milwaukee Area Technical College at 2 pm.