NO MAGI NEEDED: Jets Finish What They Started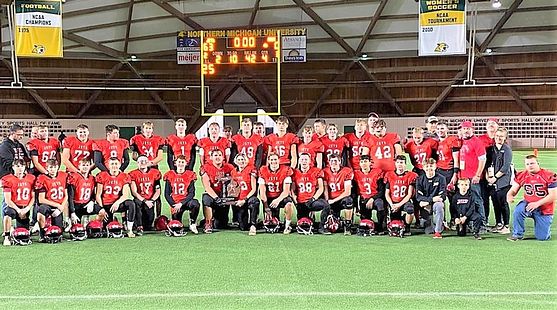 Click the AUDIO buttons to listen to post-game interviews with Owen Eichmeier, Drew Webber, and Max Nason.

CLICK HERE for all of the statistics and recap.

CLICK HERE to buy photos from the MHSAA.

MARQUETTE---The North Central Jets rolled to another MHSAA Eight Man state football championship on Saturday, beating the Colon Magi, 63-0, at the Superior Dome.

It was the second straight state championship for NCA and it was the 13th straight mercy-rule victory in an undefeated season. This follows two state championships for the NCA program back in 2015 and 2016.

"It just feels great because these guys worked so hard, all the way back to last February in the weight room, and we wanted to finish what we started," Gorzinski said. And then, in a nod to those preious state champions, Gorzinski added, "Athe guys that come before us, I thank them. They showed it can be done, and everybody started believing that it was possible."

This season, the Jets outscored their opponents 745-43. They had a running clock in every game.

"We've been working, since the summer, non-stop, every day," NCA junior Owen Eichmeier said. "We're alwaus thinking about football. We came in here today knowing it's the last game the seniors are going to have, and everyone was playing for the seniors. Personally, I was playing for my brother Carter, who never got to play for the championship last year (COVID contact traced at the last minute). Yeah, we were dialed!"

"It's crazy," NCA junior Drew Webber said. "I'm speechless right now. I wasn't expecting to get a whole lot of playing time at the beginning of the season, but a senior starter got knocked out (injury) and I stepped up to the plate. It's for sure special. Everyone's best friends. We hang out on the weekends and if you need help on homework, they're there to help you out. If you need extra passes after practice, someone will help you. And our coaches are super-motivated."

Wyatt Raab, who transferred here from Illinois two years ago, wrapped up a dream season by scoring touchdowns of 15 and 30 yards in the first 5:38 of the game. He ended up with 101 yards on five carries.

"If I miss a block, I mean, he just runs right through people," Webber saidof Raab. "He'll get around the guy somehow."

It was an extremely sweet moment for senior Alex Naser, who was also contact-traced just hours before the team left for last year's state championship game. Naser ran for a 39-yard touchdown to put NCA up by three scores late in the first quarter, shaking off an injury that had had him sidelined at the end of the regular season and start of the playoffs.

Then, some trickery. A pla the Jets worked on in practice on Wednesday paid dividends in the championship game as back-up quarterback Brent LaBonte threw a 49-yard touchdown pass to normal quarterback Luke Gorzinski to make it a 29-0 game.

And then Gorzinski hooked up with Naser for a 41-yard touchdown pass, and just like all of the 12 previous NCA games this season, the rout was on.

"It means weverything," NCA sophomore center Max Nason said. "It was Grind Day, every day, never stopping. I've been with Luke since fifth grade. He was my quarterback and I was the center, all throughout. It's been my dream to play on varisty with him, and that's been going on since last year. I can't thank the Lord enough for that. I mean, we do put in a lot of time. All summer."

NCA on Saturday rolled up 524 yards of total offense compared to 126 for Colon. The Magi had their Cinderella season come to an end after a long bus ride to Marquette from their town just north of the Indiana border, some ten hours away. They also were hampered by an injury to their quarterback, Simon Vinson, late in the first quarter. He did not return.

Saturday's championship was also sweet for the NCA fans, who had to miss out on much of last year's title run due to COVID-19 restrictions. In fact, the last time the Jets played in the Dome, in last year's state semifinals, not a single fan was allowed inside. Some parents actually stood out in the cold and peered through a narrow window in the end zone of the Supeiror Dome to see a little bit of their boys' action. Otherwise, it was Internet streams and radio.

This time, though, everybody celebrated. There was a large send off Friday afternoon at the NCA gym, and after the team returned home to Powers/Spalding Saturday night, there was another huge gathering of supporters inside the NCA Gym.