HANGING TOUGH: Bay Ladies Fall To #2 Jackets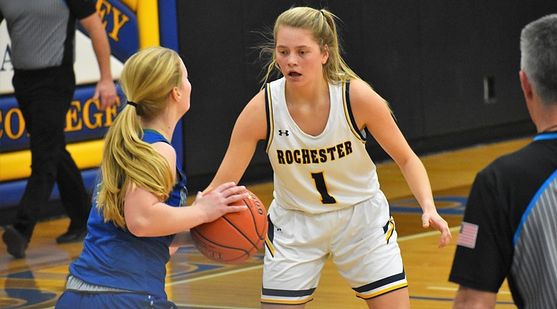 Click the thumbnails to see photos and videos, and listen to Bree Arsenault's player spotlight interview and Coach Matt Gregory post-game comments

COON RAPIDS, Minn.----The Bay College Norse women's basketball team hung tough with the second-ranked team in the country on Saturday before ultimately falling to the Rochester Technical and Community College Yellowjackets, 64-48, at a tournament hosted by Anoka-Ramsey Community College in Minnesota.

The Norse trailed just 24-21 late in the second quarter before the Yellowjackets pulled away by outscoring Bay 29-12 over the next quarter-and-a-half.

It was Bay's third straight loss and sixth in the last seven games, but Coach Matt Gregory was not upset with his team's effort

"I think we turned some things around a little bit," Gregory said. "This feels like a different type of a loss than it has been with others in the past. I'm somewhat glad, even though the scoreboard doesn't show it, that we didn't quit and did some things that will help us become a better overall team. We have to play at that high level of competition and try to match that, and I think that at times, we did that."

The Norse were able to get some downhill movement toward the basket with Tianna Taylor scoring inside to bring Bay to within 13-10, and then after a Yellowjacket basket, Bree Arsenault cut to the rim and scored an "and-one" basket to bring Bay to within 15-13.

RCTC went on a quick nine-point spurt, aided by aggressive full-court press defense and strong offensive rebounding at the other end. An Olivia Christianson triple, followed by a steal and Myia Ruzek layup made it a 24-14 game in the second quarter.

The Norse responded with triples by Aliana Trudeau and Kennedy Englund to cut the deficit to 24-21 late in the second quarter. But the Yellowjackets closed the half by outscoring Bay, 15-6, to lead, 39-27, at halftime, and they built a 55-33 lead early in the fourth quarter. Bay scored just five points in the third quarter.

But even down by 22, the Norse kept churning, getting to within 62-48 with 2:20 left in the game on an Andie Arsenault triple.

The Norse allowed 24 offensive rebounds and made 30 turnovers on offense. Bay was outrebounded all together, 51-31. The Norse had the edge in three-point shooting, making 6-of-17 treys, while RCTC shot just 3-of-20.

RCTC (5-3) returns the core of its team that beat Bay in the regional championship game last season. The Yellowjackets have returned to NJCAA Division III, and are ranked second in the nation. Ruzek had 21 points and 11 rebounds for the Yellow Jackets, while Kandace Sikkink also had a double-double of 14 points and 14 boards

Bay College (6-8) was led by Madison Olsen and Kennedy Englund with nine points each. Andie Arsenault and Bree Arsenault both contributed six rebounds, and Olsen was credited with four blocked shots.

The Norse face another tough team on Sunday, taking on the nation's third ranked team, Anoka-Ramsey. Game time is 3:00 ET/2:00 CT. That will be Bay's final game heading into the holiday break.