Bay College Ladies Fall To Another Top-Five Team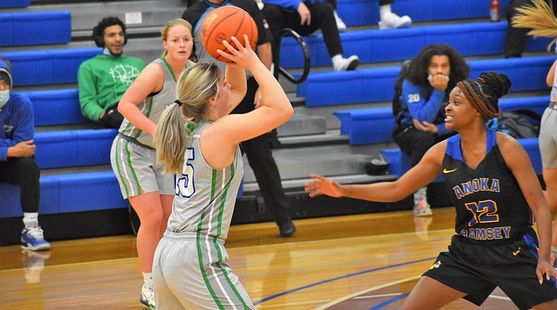 Click the thumbnails to see photos and videos, and hear post-game comments from Coach Matt Gregory. Also click to hear Hannah Clark's player spotlight interview.

COON RAPIDS, Minn.---The Bay College Norse women's basketball team faced a top-five team for a second straight day on Sunday, and the result was the same as the day before as the Norse lost to the third ranked Anoka-Ramsey Golden Rams, 79-52, in Minnesota.

The loss dropped the Norse to 6-9 on the season as the 2021 portion of the schedule came to an end.

The Norse hung in there for a while, with neither team putting many points on the board in the first quarter. Bay led, 8-7, as Andie Arsenault drained a pair of triples and her older sister Bree scored on a drive down the lane.

In the second quarter, the Rams had four women come off the bench to drain triples, with Piper Flemming knocking down two of them. It was a 17-15 game midway through the quarter after Bree Arsenault scored on a jumper, but the Golden Rams finished the quarter on a 11-2 run to take a 28-17 lead at the half.

Alyssa Cretton came off the bench to score four of Bay's nine points in that quarter.

In the third quarter, the Norse fell behind, 32-17, before Alaina Trudeau knocked down a triple to end a 9-2 run, bringing Bay to within 34-26.

Things went downhill from there. Flemming put down two more three's in the third quarter and La'Tayla Pemberton scored eight points of her own. Anoka-Ramsey put up 31 points in that quarter and led, 59-35, entering the fourth quarter.

Eight different Golden Rams scored in the fourth quarter as they bounced back from Saturday night's loss to Bismarck State. That was the third-ranked Rams' first loss of the season.

Point guard Demaiyah Hill led Anoka-Ramsey (7-1) with 18 points, ten rebounds, and four assists. Flemming had 17 points and eight boards, and Pembeton contributed 13 points.
Bay was led by the Arsenault sisters, who both finished with 13 points.

Anoka-Ramsey outrebounded the Norse, 54-36, and Bay had 24 turnovers.

The Norse (6-9) have lost seven of their last eight games, so the Christmas break comes at a good time. Bay will return to action on Jan. 3 with a game on the road at Western Tech. It will be the Norse' 13th road game in their first 16 starts.