NCA Jets Pull Away From Broncos For 60-41 Win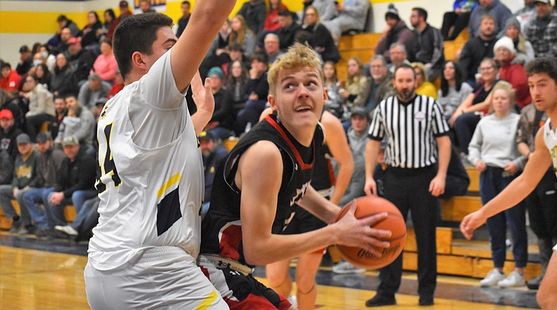 Click the thumbnails to see photos and videos, and hear interviews with Carter Tietz, Jesse Sampson, and Connor Florenski.

HARRIS---The North Central Jets boys basketball team outscored the Bark River-Harris Broncos, 23-8, in the third quarter and posted a 60-41 win Tuesday night in Harris.

The Jets improved to 5-0 on the season while the Broncos were playing their first game after several early-season cancellations.

NCA jumped off to a 14-2 lead in the first quarter before James Miley nailed a triple from the right wing as the clock wound down. But the Broncos forgot to play defense and Bradey Anderson came up court and buried a 30-foot triple to make it 17-5.

The Broncos battled back in the secnd quarter. They outscored the Jets, 16-9, as Logan Getzloff went off for three triples and a two-point basket in the quarter. Trevor Lippens also drained a three as BR-H closed to within 26-21 at halftime.

But the third quarter was a different story as NCA put up 23 points, starting with a defense that tipped multiple Bronco passes, and ending with Florenski scoring 12 of his game-high 22 points on a pair of triples and three baskets inside the paint.

"We played pretty good and our defense was pretty solid," Florenski said. "They started out pretty hot but we recovered pretty well. He (Coach Mike Malone) said (at halftime) that we handled their biggest punch, and if we come back and play our defense, our offense will start heating up."

Besides Florenski's 22 points, Anderson scored 11, Jesse Sampson added ten (plus a bunch of assists), and Luke Gorzinski scored nine points (also adding a handful of assists).

It was a game where it looked a lot like a football game, minus the pads and helmets.

"My first half was kind of rough, getting used to the contact," Sampson said. "The refs were letting us play a little bit. I'm all for it. I like this type of physcial game. They gave me the lane a few times in the first half, and unfortunately, I didn't finish them. But in the second half, it opened up and I got acclomated to the contact and the way the game was being called."

Carter Tietz didn't score a point, but was big on the defensive end off the bench for NCA.

"I just go out there and hustle," he said. "It takes a lot of heart to play good defense, and I've always been that kind of player. I just pass the ball. I'm not much of a scorer, but I just like to D-it-up on the defensive side."

BR-H got 13 points from Getzloff, eight from Quentin Johnson, and seven from Lippens.

The Broncos will play on December 30 at home against Rapid River, and on January 3 in Ishpeming. Both games will be broadcast on Eagle 107.3 FM. The Jets return to action on January 3 with anther rivalry game at Norway.