Ziemke Solid, But Penalties Kill Eskymos In 3-1 Loss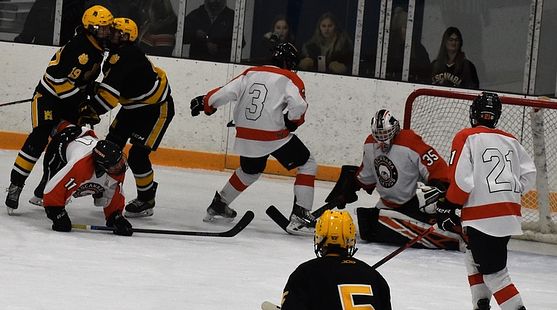 Click the thumbnails to see photos and videos taken by Bill & Mickey LaMarch. Also hear post-game comments from Dylan Ziemke and Coach Andy Johnson, and listen to Brayden Martineau's player spotlight interview. Also click to hear the radio call of Krutina's goal.

WELLS---Dylan Ziemke made 39 saves against some of his former teammates, but the Escanaba goaltender's effort wasn't enough as the Ashwaubenon Jaguars went home to Wisconsin with a 3-1 win Thursday night at the Hannahville Ice & Turf.

The Eskymos spent 21 minutes shorthanded thanks to eight minor penalties and one major penalty. They killed off eight of the nine power plays against them, but had little energy remaining to mount much sustained offensive pressure.

"I'm at a loss for words," Eskymo Coach Andy Johnson said. "We talked about staying out of the box. That was the biggest thing we focused on . I guess we need to get together and we need to talk about this, because this one hurt."

In the end, the Jaguars outshot the Eskymos, 42-15, leaving Ziemke to fend for himself with exhausted penalty killers in front of him.

"We for sure didn't respect Dylan back there," Johnson said. "Dylan is one of the best goalies in the state, and we didn't come out and help him tonight."

"We talked about no penalties, but no one on our team seems to want to hit," Ziemke said. "I'm always out there yelling at our team to hit. We don't. And then we let them get by, and we start slashing or tripping. And that's when how we get our penalties."

But for Ziemke, it was fun playing against guys he played with in youth hockey when he lived in Menominee-Marinette, and played with last summer on a AAA Wisconsin team.

"I was actually super-excited, no matter how the game went." Ziemke said. "I've played with seven guys on that team. Four of five of them,I still play Triple-A with in the summer. Before I moved to Escanaba, I played with them in Marinette, and then I moved at the same time that they moved. So this was fun. I've always played with them. This is the first time I've ever played against them."

It was a nightmare for one of the Eskymo captains, junior defenseman Gunner Bourdeau. He was whisted fr five minor penalties, and by MHSAA rules, he was ejected from the game early in the third period.

"I haven't seen that in all my years that I've been involved around Eskymo hockey,"Johnson said.

The Eskymos also lost defenseman Brent Labre to an ankle injury, pressing freshman Alex Schwalbach into service back on the blue line.

The Jaguars, a co-op team in the Green Bay area with kids from Ashwaubenon, Pulaski, and Seymour High Schools, took a 1-0 lead on a point shot by defenseman Charlie Laurent that gt by a screened-out Ziemke. Ashwaubenon would not score again until the third period, despite being almost constantly on the power play.

Trevor Streichert was called for a five-minute major hitting-from-behind penalty, and then after the Eskymos nearly had that peanlty killed off, Bourdeau was whistled for roughing. The Eskymos got through that, but then Bourdeau got called for unsportsmanlike conduct moments later, so they had to kill off two more minutes of penalty time.

In the second period, the Eskymos were being outshot, 16-3, when the "kid line" of Cale Carter, Riley Stannard, and Schwalbach put on pressure that led to Escanaba outshooting Ashwaubeon, 7-2, over a five minute stretch. But Jaguar goalie Lincoln Simons stopped them all.

"That's the positives that came out of this game," Johnson said. "My three freshmen played a great game."We put Alex back on D, and he stepped right in, playing on the penalty kill. He played really well on the power play and was patient with the puck. Riley was out there making some things happen when we were 5-on-5. And Cale is getting better every game. I'm really proud of those freshmen."

Any momentum the freshman line had crated went away, however, when Bourdeau got called for cross checking and Jayger LaMarch went off for slashing three minutes later.

"We started getting rolling, and then we got undisciplined and started taking the parade to the penalty box," Johnson said.

In the third period, the Jaguars finally scored again at the 3:35 mark when their top scorer, Teig Driessen of Seymur High School blasted one off the post and behind Ziemke.

Later, after Bourdeau was dismissed from the game after receiveing his fifth penalty (this one for head contact), Jaguars Captain Cooper Routheau scored after Driessen won a faceoff on the power play. That gave Ashwaubenon a 3-0 lead.

Escanaba finally got on the board with 4:12 left in the game as Carter was being tipped over at center ice but somehow got a pass through to captain Karson Krutina. He made a nice move and scored to give the Eskymos their first goal.

But any thoughts of a late comeback ended when Cody Nelson was called for tripping with just over two minutes left, and even though the penalty killers kept the Jaguars off the board, the offense had no chance to try to make a last-minute rush.

Ashwaubenon came to the Upper Peninsula missing four players, so a few JV kids had to step in. The Jaguars improved to 9-2 on the season, and have outscored their opponents 50-21.

Escanaba fell to 5-5 on the season. The Eskymos will be on the road next Tuesday and Wednesday at a holiday tournament in Alpena. They will play Dexter Tuesday at 4:30. That game will be broadcast on FM-106.3 and radioresultsnetwork.com.

The Wednesday game against Alpena starts at 4:00 and will be broadcast on FM-93.5/AM-600.