COLD AS ICE: Rough 4th Quarter Costs Bay Ladies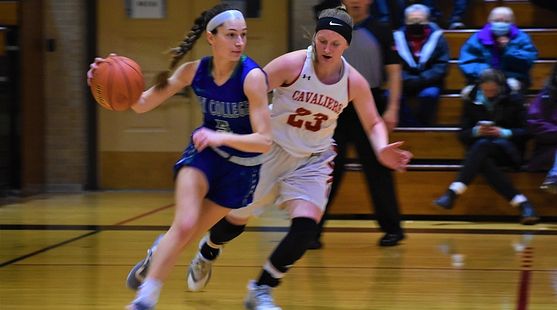 Click the thumbails to see photos and videos, and hear Stephanie Frappy's player spotlight interview and Coach Matt Gregory post-game comments.

LACROSSE, Wis.---The Bay College Norse women's basketball team was cold as ice Monday night, both literally and figuratively. Playing inside a gym that was about 20 degrees colder than normal, the Norse shooting from the floor was just as chilly as they fell to the Western Technical College Cavaliers, 51-38.

The Norse trailed just 34-31 entering the fourth quarter, but did not score a basket until Alyssa Cretton got driving layup in the final minute of that game. By that time, the damage was done, as the Cavaliers scored 17 points and the Norse missed eleven of the 16 free throws they took in the fourth quarter.

"We needed to take care of a few things offensively, but things just weren't falling," Norse Coach Matt Gregory said. "Then the most important quarter of the game, things weren't going right. I thought that for the most part, for those three quarters, they fought very hard. And they were in the game, but then it just came down to those missed opportunities."

Bay had three different players knock down triples in the first quarter and trailed just 16-12 after the first quarter. Neither team did much offensively in the second quarter, but Kennedy Englund nailed two straight triples to tie the game at 20-20.

Western Tech led at halftime, 24-20, and despite shooting troubles of their own, they were able to keep the lead throughout the third quarter. Stephanie Frappy came off the bench to score five straight points, bringing Bay to within 34-31.

But the fourth quarter was a nightmare for the Norse as the Cavaliers got the ball inside for a couple of Aaliyah Bowman baskets and Becca Rostad knocked down a triple.

Bay made just six two-point baskets in the game, along with eight free throws and six triples.
Andie Arsenault led the Norse with eight points. Englund and Bree Arsenault both added six points. Kaylee Skiba led Western Tech with 11 points. Bowman added ten.

There were five different players who fouled out: three Cavalier players, along with Bay's Tianna Taylor and Bree Arsenault.

Bay fell to 6-10 on the season, while Western Tech improved to 4-6.