Bay College Names Rahoi As Softball Head Coach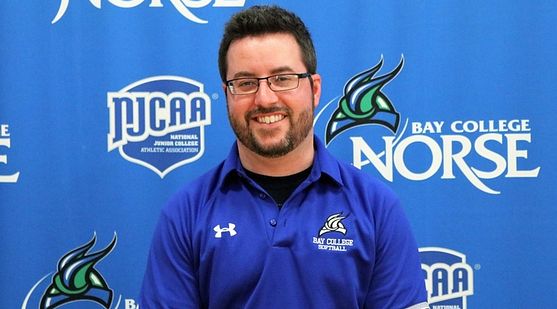 This story was written by Bay College SID Mike Pankow

ESCANABA, MI – Ross Rahoi has been selected as the second ever Head Softball Coach at Bay College.

Norse Athletic Director Matt Johnson delivered the news.

"I am excited to announce Coach Ross Rahoi as the new leader of our successful softball program. Throughout the interview process it became evident that his ability to recruit and build relationships separated him from the rest of a very quality candidate pool."

"Ross has worked hand in hand with Coach Heidi Charon to build one of the strongest programs in Region 13. He has been involved in all phases of our program since day one, including recruiting, and on the field instruction. Coach Rahoi has been involved locally with two very successful programs both at Escanaba High School and here at Bay College and I look for him to continue to build on that recent success and give softball fans across the U.P. something to rally around."

Rahoi picks up the program where Coach Heidi Charon left off. Charon was tasked with stating the program from scratch with the first competition date in 2019. In her three years at the helm the Norse amassed a 54-45 record and was the Region 13 Runner-Up in the two full seasons they competed.

Rahoi has been an assistant coach with the Norse from the very beginning, making him the ideal person to carry on the strong tradition started by Charon, as noted by Bay College President, Dr. Laura Coleman.

"Ross Rahoi has been with the Bay College softball team as an assistant coach from the beginning of the softball at Bay. His coaching reflects his commitment to the student-athletes he works with at the college and other teams he has coached over the past 16 years. We are thrilled to have him assume the role of Head Coach."

Rahoi led the Norse in the fall of 2021 as the Interim Head Coach.

Coach Rahoi has also spent some time as an assistant with the very successful Escanaba High School Softball Program. In his six years with the Eskymos, the team was able to amass a 189-31 record, win six District Championships, four Regional Championships, and were the State Champions in 2018 and 2019.

Ross also has five years of experience coaching travel softball. Other coaching opportunities have included American Legion Baseball for four years and high school and travel basketball for eight years.

"I am extremely excited for the opportunity to lead this program," said Rahoi. "I want to thank Dr. Laura Coleman, Matt Johnson, and the committee for entrusting me with the development of our student-athletes. Being a part of the Bay College Community has been very special to me the past few years and I can't thank Heidi Charon enough for bringing me on to the inaugural staff. I share this with every coach I have had the privilege of working with and every player I have had the honor to coach, and I can't thank them enough."

"I am excited to continue the tremendous tradition at Bay College and look forward to earning this opportunity each and every day. Go Norse!"

Rahoi is a Bay College graduate, receiving his Associate of Arts Degree in 2009. He received his Bachelor Degree from Northern Michigan University in 2012.

He currently works at the Nah Tah Wahsh Public School Academy.

The Norse will begin their season with a trip to the Ripken Experience in Myrtle Beach during Bay's spring break in early March.