Bay College Women Fall To Nationally-Ranked BSC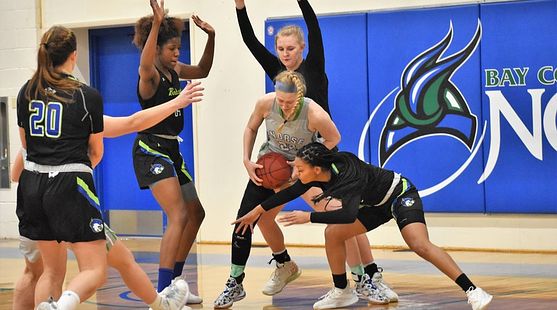 Click the thumbnails for photos, videos. Also click to hear post-game comments from Coach Matt Gregory, and listen to Chevy Koski's player spotlight interiew.

ESCANABA---The Bay College women's basketball team lost to a nationally-ranked team for the fourth time this season, falling to the 12th ranked Bryant & Stratton Bobcats, 83-26, at the Bay College Gym on Saturday.

The Norse trailed 21-3 after the first quarter and 48-8 at halftime.

"Did not look good, did not feel good," Norse Coach Matt Gregory said. "The first two minutes was the only bright spot in that whole set of 40 (minutes). They're 12 in the country for a reason. They did some really good things. It's those small things that we are obviously trying to get better at. It really gets exposed against teams like this. It's kind of an eye-opener, in a way that's needed. We've got to take a lot of learning from this one, for sure."

La'Janique Perry-Ellis scored 26 points and grabbed ten rebounds to lead the Bobcats, who improved to 14-3 on the season. Faith Watkins, Teya Maas, and Myisha Malone all added eleven points. Malone also chipped in seven rebounds.

The Norse got six points from Tianna Taylor and five each from Andie Arsenault and Chevy Koski. Koski also cleared eight rebounds and Arsenault had six boards.

The Norse fell to 6-11 on the season and will have an important NJCAA Region 13 seeding game against a shorthanded Gogebic Community College team Wednesday night in Ironwood.
GCC had just five women on the floor Friday night in a 112-34 loss to Bryant & Stratton. The Samsons finished that game with three players on the floor.

"Both teams are going to obviously be looking to figure some things out going forward," Gregory said. "We've got to go to the drawing board and really, really put this one behind us."
Wednesday's game is starts at 6:00 ET in Ironwood.