Gladstone Wins Delta County Wrestling Triangular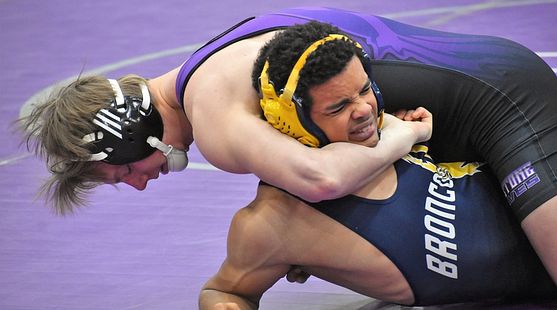 Click the thumbnails to see photos and videos, and hear post-game comments from Gladstone's Brett Boudreau, Bark River's Dillon Raab and Noah Gagne, and the head coaches from all three teeams.

GLADSTONE---The Gladstone High School wrestling team won a pair of matches from their Delta County rivals Thursday night, turning back Bark River-Harris, 51-26, and Escanaba, 46-36. The Broncos topped Escanaba in the other triangular match, 50-27.

A big win for Gladstone in the match against BR-H came when Hunter Potier, an All-Stater in football, trailed state qualifier Drew Allgeyer in a 171-pound match, 14-3, in the second period. Allgeyer appeared to pin Potier late in the second period, but Potier battled through it, and eventually flipped Allgeyer and pinned him as the second period horn sounded.

"He just kept grinding it out," Gladstone Coach Jeff Brazeau said. "He got put in a bad spot a couple of times and kept going with it, and ended up getting the pin. Drew is a tough wrestler. It fired us up, and got us realy for the next dual."

Gladstone heavyweight Brett Boudreau, an All-U.P. football lineman, picked up two wins. He defeated BR-H's Lane Nehring, who himself was an All-U.P. football lineman with the North Central Jets, on a pin midway through the second period. And Boudreau pinnd Escanaba's Parker LaFond in just 38 seconds in his second match.

"My first match took a while because he (Nehring) was stalling a lot, but that happens," Boudreau said. "Then in the second match, I got to my moves real quick and got him down real quick. It feels pretty good getting a win against these two, that we did not beat last year. That was kind of sad, but back on top, I guess."

BR-H got two wins from senior 160-poundeer Wyatt Raab, a North Central student who was an All-U.P. football player for the state champion Jets. Raab made quick work of Gladstone's Bret Seger in 16 seconds. Raab settled for a 15-0 tech fall win over Escanaba's Tom Neumann in the second match of the evening.

Raab's little brother, 145-pounder Dillon Raab, fresh of chapionships over large school opponents at the Marquette Challenge and at asuper dual in downstate Algonac, did not have an opponent against Escanaba, but needd only 46 seconds to pin Gladstone's Bryce Carlson.

"I'm starting to hit my stride as I get ready for the post-season," Dillon Raab said. "Just trustig in my training, and trusting in my practice partners eery day, getting better. So, I feel good heading into most of my matches. It's exactly what you want, traveling downstate, wresting at the Marquette Challenge against Division One and Division Two kids, just getting the best competition I can to get ready for the state tournament."

He improved to 22-0 on the season and now has 96 career wrestling wins, which sets him up to break the century mark this weekend at a tournament in Freedom, Wis.

Gladstone's Austin Solis picked up pins in two weight classes, pinning Escanaba's Charley McInerney at 130 pounds in a spirited match that ended at the 2:56 mark, after pinning Bark River's Elliot Corignan at 25 seconds in a 125-pound match.

Gladstone 119-pounder Drew Hansen needed only 28 seconds to win two matches: a 13-second pin againt the Broncos' Brendan Siedlecki and 15 seconds against Escanaba's Linnea Britton.

Bark River-Harris 152-pounder Noah Gagne had two overpowering wins, pinning Gladstone's Max Wilson (1 minute, 34 seconds) and Escanaba's Drew Griffin (35 seconds).

"As a team, I feel we came out a little slow," Gagne said. "But when we wrestled against Esky, we picked up the energy on the sideline, and we just started wrestling harder. For me, individually, I think, I was rally nervous during my two matches. But I just, strike first and was able to go away with the W both times. I definately like versing the bigger schools because you get more recognition whenn you beat them."

Escanaba actually led Bark River, 30-0, on pins by Eli Gardner and Charley McInerney at 119 and 125, and on forfeit wins for Trevor DeGrand, Caden Smith, and Adam Reimer. But the Broncos won every match from there, esxcept for a forfeit win for Escanaba Elks champion Cade Krueger.

"We came out tough and we wrestled hard in the matches that we were in," Escanaba Coach Jeff Wright said. "Even when we were outmatched, we still went at the kids. We just ended up on the losing end tonight. Adam Reimer and Cade Krueger at the bottom, and Charley McInrney stepping in as a freshman, toughing it out and trying to do something for the team tonight. Even without wins, every kid, I was proud of on how they came out tonight."

The Bark River-Harris/NCA team, without several of its wrestlers due to illness, will look to regroup Saturday in Fredom, Wis. The Gladstone boys will also be in a big tournament, downstate at Benzie Central against some teams they could face in the D-3 playoffs.

"Having the team back, all 26 of them, in the wrestling room, is going to really going to help get us conditiond better," BR-H Coach Joe Racicot said. "It will help our technique because we'll have more wrestling partners."

"Benzie is in our region and Hart is in another region, but they're in our division," Gladstone's Coach, Brazeau said. "It will be good comptition there. We're ready. I think this gets us ready for what we'll face this weekend."

Escanaba is off until next Thursday, when the Eskymos host a quad meet with Kingsford, Negaunee, and Westwood.