Dawley, Goldi Lead Rockets Past Wolverines, 60-40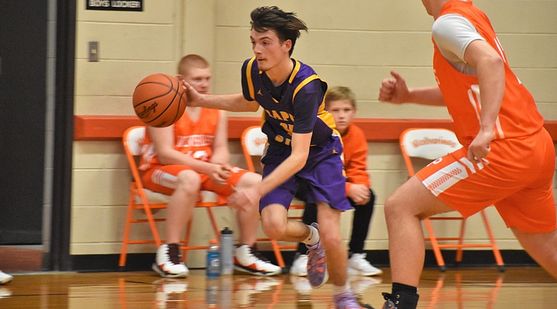 Click the thumbnails to see photos and videos, and hear post-game comments from Dawley and Goldi, and from both team's coaches.

PERKINS---Rease Dawley scored 22 points and Kodey Goldi added 20 as the Rapid River Rockets pulled away from the Mid Peninsula Wolverines, 60-40, in boys basketball action Monday night.

The final score is a bit deceptive, as the Wolverines hung close for most of the night, and trailed by only eleven with four minutes to play before the Rockets finished them off down the stretch.

"We are discombobulated right now," said Mid Pen Coach Mark Branstrom, who's led the Wolverine progran since 1984. "We don't understand the help-side on our man-too-man (defense) and on offense, we don't understand where we should be at. So, there's a lot of things that went wrong today, and they're definitely fixable."

Rapid River's new head coach, Hayden Hardwick, liked his team's second half play.

"Mid Pen slapped us pretty good right off of the tip," Hardwick said. "We went into half only up by two. It was a different team after halftime. Shots weren't falling from behind the three, and that's ome ofour strengths this year, but we found a way to get it done inside. Kodey had a good game and Rease probably played one of his best games all year. He was udner control."

Rapid River made only two three-point baskets all night, and Mid Pen made just one.

The Wolverines led, 15-12, after the first quarter, and Rapid led, 25-23, at halftime. The third quarter was the difference, with the Rockets outscoring Mid Pen, 16-5, grab a 41-28 lead entering the fourth quarter. Dawley had eleven points in the third quarter.

"We weren't making many shots, so I had to come out and make some shots for our team," Dawley said. "I have to be a leader. I was the only one who really played last year and I kind of know what the competition looks like."

Goldi says he took advantage of his size advantage.

"When I've got a smaller kid on me, I like having the ball in the post," Goldi said. "Whether it's right below me, or right under him, because when they're small, they really can't stop me. I got a couple of post moves that I use, and they weren't really catching on, so I wanted to keep getting the ball down there because I knew I could do some damage."

Mid Pen's top scorer, Michael Englund, was saddled with three fouls in the first half, and then picked up his fourth early in the third quarter. He finished with ten points. Bradly VanDamme led the Wolverines with 12 points and Tristen Syers added eight points.