Six Eskymos Sign Letters To Play College Athletics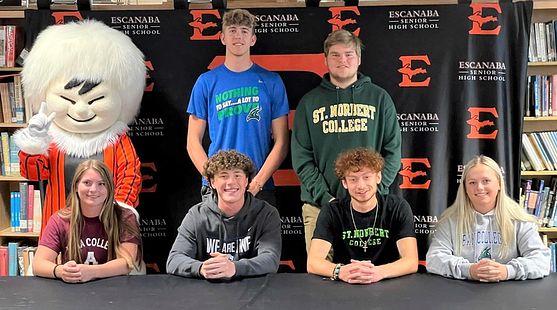 Click the thumbnails to see photos and videos of all six Eskymos signing, and video interviews with them as well.

ESCANABA---It was Signing Day Monday for six Escanaba High School graduating seniors on Monday, with two football, two basketball, and two softball players signing their National Letters of Intent to play at the next level.
Colin Hudson, a Division Two All-State Honorable Mention and U.P. Dream Team member, decided to stay home and play basketball at Bay College.
"I did have some interest from bigger schools, but I mean, it came down to whether you want to play or not," Hudson said, concluding that he stood a better chance of playing immediately at Bay rather than at D-2 colleges that had courted him. "I think Bay was the way to go on that one, and I'm looking forward to playing with the guys there, getting to know them, and I'm excited."
Hudson was the most-heavily recruited U.P. Player by the Norse this past season, and he says he already felt like he was part of the team during his senior year in high school.
"I always went to the home games and I liked what I saw," Hudson said. "That's one of the main reasons why I'm going to Bay next season."
Hudson will study business at Bay.
Hudson's teammate, Connor Smale, decided to head north to Finlandia University. Smale was an All-U.P. Honorable mention selection after his senior season.
"I'm really happy that I accomplished my goal of playing college basketball," Smale said. "They showed interest in me since my sophomore year. When I went up there, it felt like home. I mean, they all welcomed me with open arms. It just felt right."
Smale will be studying physical therapy at Finlandia.
Two football Eskymos, Adam Willette and Joey Kositzky, signed with St. Norbert College in Green Bay.
"I was looking for schools, and I really didn't know if I wanted to play sports after high school," Willette said. "Then St. Norbert's coach reached out to me, and set up a visit, and when I went down there, I was ready to sign right away when I was there."
"I actually applied there on a whim, and the football coach texted me and said 'do you want to play', and I said, 'sure, why not?," Kositzky said. "It's super nice because my family can come down and watch our games. And it feels great to know somebody (Willette), and play with him, room with him. We're gonna have a blast!"
Kositky says he will be studying business at SNC. And Willette?
"I'm going to study pre-law, and hopefully go to law school after that," he said.
And as for softball, Lizzy Sliva will stay home and play for Bay College, while Abby Hill signed with Alma College in lower Michigan. Hill is going there on a marching band scholarship, where she will play the trumpet and balance that with softball, and of course, academics.
"I'm not really sure yet (what her role on the Norse will be) because I've never really experienced anything like this before, so it's all new to me," Sliva said. "I'm looking forward to being on a new team, with new teammates, and all of the experiences. I have a lot more confidence this year. It's just a lot of fun for me. I love the sport."
Sliva will be studying in the nursing program at Bay.
And Hill will be on a band scholarship at Alma, and she says she's excited about also playing softball at the downstate school.
"They reached out to me my junior year and asked me if I'd like to come play for them," Hill said. "Then when I went and visited them, it just felt like the right fit. I wanted to go there as soon as I visited. I'm really excited about it. I think my high school background will transition really well into their program at Alma."
Hill plans to study biology at Alma, along with being in the band and playing softball. Ultimately, she plans to go to medical school after her time at Alma.
These six student-athletes join three other Eskymos who signed in the Early Signing period: baseball players Jared Hanson (Central Michigan) and Hunter Lancour (Delta College), and softball player Carsyn Segorski (Western Michigan).