Braves Too Much For Flivvers In 10-2 GNC Victory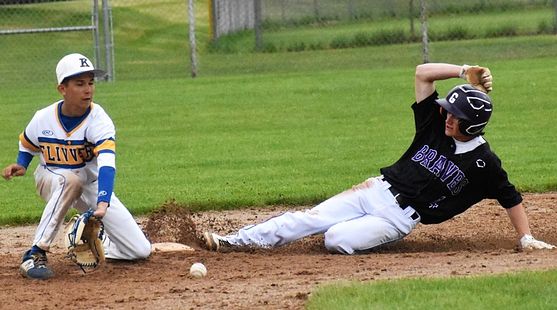 This story was written by Braden Kerr, RRN intern. Click the thumbnails to see photos and videos, and listen to post-game comments.

GLADSTONE---Gladstone's early runs and strong pitching led the Braves to a 10-2 victory over the Kingsford Flivvers Thursday night at Olsen Field.

Gladstone clinched at least a share of the Great Northern Conference title with the win, and will root for Menominee to upset Escanaba next Tuesday to get the outright title.
"I'm feeling good, that was a good last inning, it was a lot of fun. It wouldn't have been possible without the team though. I came in, I did my job, I pitched the last inning, but without Braden and defense it would have never been possible," said Braves relief pitcher Austin Bagwell, who threw the final 1-2-3 inning, using a slow curveball to fool the Kingsford hitters.
Braves starter Braden Sundquist scattered five hits across five innings pitched allowing two earned runs. Austin Bagwell closed out the game in the sixth with a one two three inning. The defense played well behind their pitchers despite the elements only committing one error in the game.
Gladstone scored early and often pushing across runs in each of the first four innings of play. The Braves took advantage of the sloppy field and wet ball, putting pressure on the Kingsford defense with small ball and aggressive baserunning. They also did some damage via the long ball.
Sundquist would reach on an error in the first inning before Cam Kelly doubled to put men on second and third. Gavin Frossand would lay down a bunt that would score Sundquist and Kelly appeared to be out after slipping around third base before a throwing error by the third baseman allowed him to score.
John Soderman led off the second inning with a solo home run to left field. Aedan Creten and Tyler Dormogray would reach base before scoring on a wild pitch and a sacrifice fly, respectively.
"It felt great, that's for sure. I've been letting a lot of fastballs go by. I haven't been seeing pitches that well. This one was just inside and I just swung and it went over," Soderman said after the game about the long ball, his second of the season.
Hunter Skoglund led off the Kingsford third with a walk and would score on a base hit by Gavin Trevillian to get the Flivvers on the board.
The Braves answered with four runs in the bottom of the inning on a fielding error, a two RBI single from Sundquist, and a Cam Kelly sacrifice fly.
This marked the end of the night for Sawyer Pugh on the mound for Kingsford. He was tagged with nine runs on only six hits in three innings of work. Trevillian worked in relief giving up one run on two hits in two innings.

It was a strong game for Gladstone freshman Gavin Frossard. He squeezed in one run by bunting a high pitch, and a second run scored on a Flivver error on that play. Later, Frossard went with a two-strike pitch and smacked it to right field for a run-scoring single.

Henry McRoberts was the only Kingsford player to get two hits off Braves pitchers.
Gladstone (19-5-1) travels to Green Bay on Friday to play a highly ranked opponent in Denmark High School, before returning to host district play next Friday. Kingsford now looks ahead to districts where they will travel to Sault Saint Marie to take on the Blue Devils in a "play-in game" on Tuesday afternoon.