Sault High Survives In Playoff Battle With Kingsford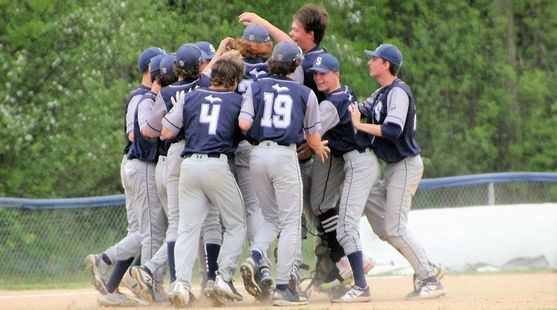 ---Photos courtesy of Sault High Baseball Team

SAULT STE. MARIE---The Sault High Blue Devils and Kingsford Flivvers opened the MHSAA Division Two district baseball tournament Tuesday with a classic game that the regulation seven innings couldn't solve. The Blue Devils survived, 3-2, in eight innings, by scoring two runs in the bottom of the eighth inning when their season was one out away from coming to an end.

It was a pitcher's duel most of the way between Kingsford's Gavin Trevillian and Sault Ste. Marie's Garrett Gorsuch. The Blue Devils took a 1-0 lead in the bottom of the sixth, but the Flivvers tied it in the top of the seventh and grabbed a 2-1 lead in the top of the eighth.

In the seventh, Riley Juneau's two-out base hit brought home the tying run, and then in the eighth, Dennis Neuens had the RBI single to put the Flivvers in front. A big double play on a Trevillian grounder up the middle got the Blue Devils out of the inning trailing just 2-1.

In the bottom half, a one-out single by Ethan Chambers put the tying run on, and Jake Davie bunted him to second.

That was the second out of the inning, and then Avery Wilson got a base hit to right field, putting runners at the corners. And then an unusual call with the game on the line: the umpire called a balk on Trevillian, bringing home the tying run.

And then Josh Lumsden, who had singled home the Soo's first run in the sixth inning, ripped an 0-2 pitch all the way to the left field fence, giving the Blue Devils the walk-off win.

Kingsford fell to 16-7 on the season. The Blue Devils improved to 17-12 and will host Escanaba in a district semifinal game Saturday morning at 11:00.