Escanaba Girls, Houghton Boys Win D-1 U.P. Titles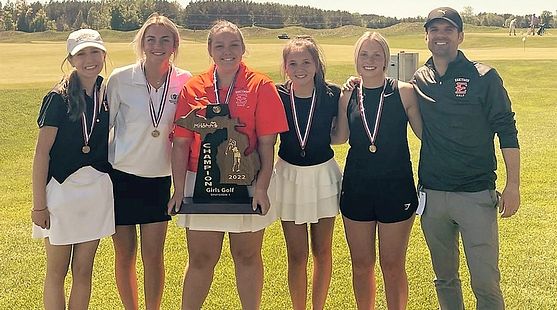 CLICK THE THUMBNAILS IN THE PHOTO GALLERY to see all of the team and individual results

HARRIS---The MHSAA Upper Peninsula Division One golf championships were held on Wednesday in northern Menominee County.

The Escanaba Eskymos won the girl's title by six strokes over Negaunee, while Houghton topped Marquette by five strokes for the boys.

In the girls meet at the Sweetgrass Golf Course, the medalist was Negaunee's Rachel Niskanen with an 82, one shot clear of runner-up Madison Derusha of Menominee (83). Westwood's Julian Koski was third with an 89. Iron Mountain's Redett Husing was fifth (93)>

The Eskymos had four of the top 12 finishers, which is why they won the team title.

Cierra Scott was fourth overall after shooting a 90. Escanaba's Sophie Derkos was ninth (100) and Payton Wellman (108) was 12th.

On the team scoreboard, Escanaba won with a score of 411, with Negaunee second (417) and Marquette (422) third. Westwood was fourth with a 431 and Menominee fifth with a 440.

In the boys meet at the Sage Run Gold Course, the Houghton Gremlins and Marquette Redmen both had two of the top ten finishers, which helped them to the top of the team scoreboard.

Houghton's Marino Pisani was second after shooting a 78, and Camden Markham was ninth with an 83. Marquette's Cam Rector was sixth (81) and Jace Moore (83) was tied for ninth.

The medalist was Menominee's Brady Badker, who fired a 75. Kingsford's Cole Myllyla took third with a 79, tied with Iron Mountain's Cooper Pigeon and Westwood's Tyler Annala.

Calumet's Kip Kangas tied Rector for the sixth spot with an 81 of his own.

Escanaba freshman Bryson Lancour cracked the top ten by shooting an 83. Two more youngsters, Andy Lehto and Rogan Gravelle, also had top-20 finishes by shooting 85's.

On the team scoreboard, Houghton topped Marquette, 329-334, with Calumet and Kungsford tied for third (337). Escanaba took fifth place with a 341.