ANOTHER WINNER! Esky Repeats As UP Champs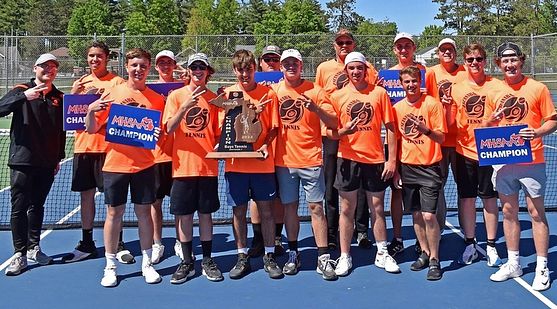 Click the thumbnails to hear comments from #1 doubles and #3 doubles UP champions, from #2 singles runner-up, and from Coach Tom Penegor.

KINGSFORD---The Escanaba High School boys tennis team won its second straight MHSAA Division One Upper Peninsula championship on Wednesday, edging Negaunee and Marquette, at Kingsford High School. Those three teams have battled each other all season long, and the Eskymos used the power of their doubles teams to get over the hump and win the trophy.

"To think that we won, back-to-back, conference and U.P.'s, is incredible," Escanaba Coach Tom Penegor said. "I'm just so happy for the kids. They've put in a lot of work. We'e been here, all (2021) summer long, early in the spring trying to get the snow off the courts. The kids were hungry, especially after winning last year. And they were just as hungry as they were last year."

Escanaba had 17 points, Negaunee 15, and Marquette 13, as those three teams continued to wage their season-long warfare. Kingsford was a distant fourth place with five points, Menominee (two points) was fifth, amd the shorthanded Gladstone Braves team was sixth.

The Eskymos were fueled by the #1 doubles tandem of Isaac Maki and Dawson Williams. The duo not only went undefeated during the entire season, but they never lost a single set. And that continued at the U.P. Finals on Wednesday, with another dominating performance.

"Lots of practice over the summer, definitely," the 6-foot-4 Maki said. "I got way better over the summer, and that's where most of the credit is for."

"Playing the summer, playing the winter, working your way into the season, and he's just a really good friend as well," Williams said. "I think that helped our season out a lot. We just played consistent. Keep your shots in. Encourage each other."

"Yeah, don't get down on your partner," Maki agreed. "Just stay positive. We just had so many crazy points that could have gone either way and we were able to get 'em."

"Just 'utlasting (the opponent)," Williams added. "Hit it deep, work your way to the net. Hit spikes. Hit alley shots. It was just a perfect day for us."

Maki and Williams defeated Negaunee's James Thomsen and Jace Turri in the finals.

Escanaba's #3 doubles team of Connor Smale and Troy Delvaux took the title, even though the group was put together at the last minute.

"I usually play singles and they move me around a lot, and last week, they switched me to Three Doubles," Smale said. "But me and Troy have good chemistry. We played basketball together when we were younger. We were definitely a lot more positive today. It feels like we hit our stride today. I think we were putting stuff together at the net a lot better."

"He's a great competitor," Delvaux said. "He's really talented and we just gelled together really well. We kept our cool, we just kept hitting it in. We played up to our potential. I think our lobs were much-improved."

Escanaba's #3 doubles team of Joseph Montel and Joe Hubert also brought home a U.P. championship, along with #4 singles Joe Rivera. Rivera was the only Eskymo singles player to win the U.P. championship medal.

Marquette's Nick Olivier also completed a perfect season, winning the #1 singles championship in his usual dominating fashion. Negaunee's #2 singles player, Gavin Saunders, upset Escanaba's Nathan Howes in the championship match to get the trophy.

"He was a great competitor," Howes said of Saunders. "I played him three other times: the Kingsford Invite, the Negaunee Invite, and we also played at Escanaba. I won all those three times, but he had the better game today."

Was he upset that he lost on Wednesday?

"No, because the team won," Howes said. "We have a great group of guys. We started early last year after COVID, and we've just been bonding together. We had good leaders last year that built a good reputation for the program."

Besides Saunders' #2 singles chanpionship for the Miners, Negaunee's Tyler Lajimodiere also brought back a trophy at #3 singles. Marquette's #4 doubles team of Seppi and Toby Camilli brought home the #4 doubles Upper Peninsula championship.

For Escanaba, winning a second U.P. championship in a row is huge for the program, after Negaunee dominated with multiple U.P. tites up until 2019.

"After we won it last year, we had a lot more interest, and we had 35 guys this year," Penegor said. "Havong only four courts (at the high school) that meant that we had to have practice at different times so that we could get everybody out there. I think that with winning it again this year, I think this is just a win-win for the community and for the sport."