Mercier, NCA Jets Roll To U.P. Golf Championship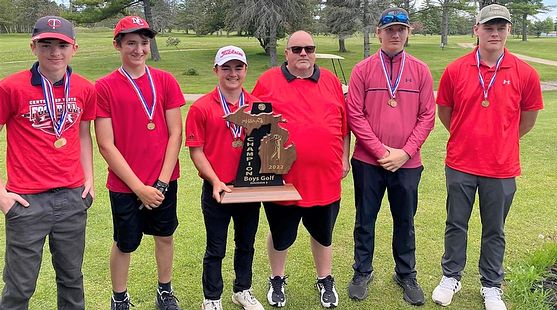 HYDE---The North Central High School boys golf team cruised to the MHSAA Division Three boys golf Upper Peninsula championship on Thursday at the Highland Golf Course.

NCA, behind medalist Bryson Mercier, was 47 strokes clear of second place Ontonagon. Watermseet was third.

Mercier won his third straight Upper Peninsula championship, following in the footsteps of Hunter Eichorn of nearby Carney-Nadeau. The only thing that prevented Mercier from winning four straight U.P. titles was COVID-19, which caused the cancellation of the 2020 tournament.

Mercier burned through the course and blew past the competition, firing a 71. He won by 18 strokes over Lake Linden-Hubbell's Marcus Sutherland and Mid Peninsula's Michael Englund, who finished tied with 89's.

Mercier got plenty of help from his teammates, with Landen Hansen and Alex Pipkorn both shooting a 90, earning both top-five finishes.

Mercier will be playing at Division One South Dakota State this fall, following Eichhorn, who just finished a four-year D-1 career at Marquette University.

Mid Peninsula did not have enough golfers for a team score on Thursday, but the three Worlverines all finished in the top ten: Englund tied for second with 89, Bradly VanDamme sixth with 91, and Tristin Syers tenth with a 97.

On the team scoreboard, NCA won with 350 strokes, followed by Ontonagon (397), Watersmeet (399), and Engadine (408).