HOME COOKING: Gladstone Wins Baseball District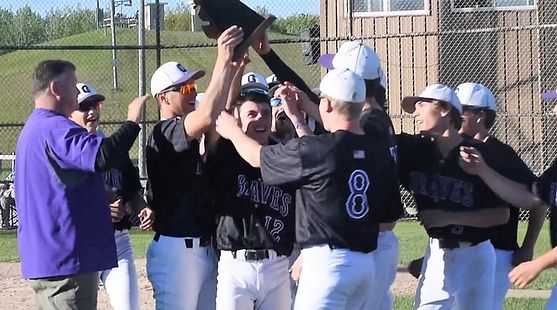 Click the thumbnails for photos, videos taken by Braden Kerr. Also click to hear interveiws with Braden Sundquist, Tyler Darmogray, Rex Kelly, and Brennon Detiege

GLADSTONE---The Gladstone High School Baseball team rolled to the MHSAA Division Three district championship on Friday, beating Superior Central, 12-2, in the semifinals, and topping Newberry, 15-0, in the finals.

The first game went all seven innings, while the championship game was called after three innings of play.

"The kids are playing some of their best baseball right now," Gladstone Manager Joe Darmogray said. "The schedule we play definitely helps. We went down and played a big Alpena team, they might be all seniors. Then the other night, we lost to Denmark (Wis.) but I was tickled pink with a 5-0 game against the number one team in the state in their division. Those kind of games really helped us."

The Braves met up with Munising/Superior Central pitcher Hayden Rockhill in the semifinal game, and got to him for seven runs in the second inning.

Rockhill struggled with the strike zone, walking seven batters, hitting two others, and he left after reaching his 105-pitch count after 3 2/3 innings of work.

Gladstone made Rockhill pay for his first two walks when Tyler Darmogray put down a squeeze bunt, which Rockhill had trouble with off of the mound. Two runs scored on that play.

"That was pretty good," Tyler Darmogray said. "I just got the sign, and then I just put it down."

"We knew we had to attack early fastballs," Braden Sundquist said of facing Rockhill again. "We had to see it right away, and any time we did see a fastball, we had to hit it right away."

Later, with the bases loaded, Rex Kelly ripped one to center field that Zach Frusti dove for. He missed, it got by him for a three-run double.

"I'm feeling pretty good, and I'm glad I was able to get the bat on the ball," Kelly said. "I kind of suck in the field, so it's great to be able to sit on the pine (designated hitter) and just hit the ball."

The Cougars closed to within 8-2 in the bottom of the second inning when Bradly VanDamme walked, Rockhill doubled, and Blake Walther grounded out to score the first run. The second SC run scored on a Gladstone error.

But Braden Sundquist settled down from there and the Cougars got just two more baserunners over the final five innings of the game.

"I was a little tight at the beginning of the game," Sundquist said. "I was struggling to spin some pitches, but it got better later in the game and it felt pretty good. I tried to throw a lot of fastballs and keep it low in the zone, and if ever there was a guy out front, just tried to work something off-speed."

Gladstone tacked on four runs against reliever Dakota Maki. One of them scored on an RBI single by Cam Kelly, the other two on a roped double to left field by Darmogray.
Sundquist went 6 1/3 innings before running out of pitches in the final inning. Austin Bagwell finished up, retiring both men he faced.

The second semifinal game saw Newebrry beat Menominee, 5-1, as Matt Rahilly pitched a complete game for the Indians win. Johnny Nutkins had an RBI single and Liam Shanley had a two-run single to put the game away.

Gable Buck took the loss on the mound for Menominee.

That set up a championship game between Gladstone and Newberry, and it was a short one, lasting only three innings. The Braves pounded out 14 base hits and the Indians committed nine errors on defense.

Gladstone scored three runs in the first inning with a two-out rally. Rex Kelly had an RBI single and Casey Alworden added an RBI double for the Braves. Then in the second inning, Gladstone sent eleven batters to the plate, with Sundquist and Rex Kelly both getting run-scoring hits. Hunter Solis added an RBI single.

In the third inning, the Braves sent eleven batters to the plate again, and scored six more runs. Noah Peterson had a pinch-hit shot to the fence that scored two runs, he went to third on the throw to the plate, then came home with a head-first slide as the throw got away. Darmogray added a double and an RBI single in that inning.

Newberry managed three base hits against Braves pitcher Brennon Detiege. Two of them, by Kennedy DePew and Rahilly, came in the first inning, but the inning quickly ended when Connor Rintamaki hit an hard grounder to Sundquist at third and he turned a 5-3 double play to end the threat.

Detiege ended up striking out six batters in his three innings of work.

"We played good today," Detiege said. "My curevball was working. It was fun!"

Rintamaki took the loss, allowing 15 runs on 14 hits, but was also the victim of leaky defense behind him.

Gladstone (21-6-1) will host the regional semifinals next Wednesday against the Houghton Gremlins. The Gremlins won their district championship in Iron Mountain on Friday, beating the host Mountaineers, 5-3, and then shutting down Negaunee in the championship game. 10-0.

The Houghton-Gladstone game is set for 4:00 Wednesday afternoon at Don Olsen Field.

"That's a big advantage for us," Darmogray said. "The kids can be home, their parents and families can be here. We don't know much about them, but they much be good to get to this point. We just have to go out there and play our game."