Nick Horning, Gremlins Keep Dream Season Going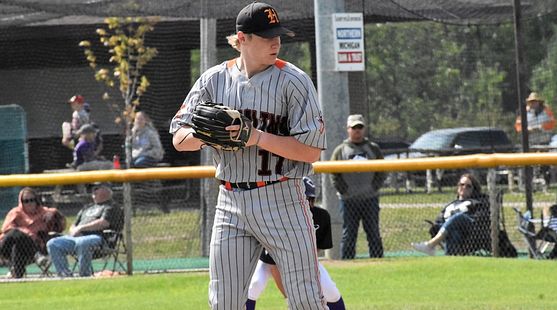 Click the above thumbnails for photos, videos, and interviews from the game. Story written, and photos/videos teaken by Braden Kerr, RRN intern
GLADSTONE---The Houghton Gremlins used a big third inning and timely pitching to capture a win against the Gladstone Braves 4-1, on Wednesday night at Don Olsen Field, in the MHSAA Division Three Regional Semi-Finals.
Houghton starting pitcher Nick Horning was lights out on the mound only allowing one Gladstone run over a complete seven innings. He pitched out of multiple jams in the early innings to lead the Gremlins. Horning would use his off-speed pitches to get strikeouts and pop-ups, while his defense played well behind him committing zero errors.
"That was tough, getting runners on, I hate doing that. I mean so does every other pitcher," he said. "A lot of curveballs, a lot of offspeed. I knew they were hunting the fastball so that's what I did."
"I just had confidence in Nick, you know, Nick's my boy and I knew that he was going to get out of it and we were going to play good defense behind him," Grenlins shortstop Kade Ferrell said of his pitcher.

Horning is one of three triplets who played in the game for the Gremlins: one brother, Dylan, was his catcher, and the other brother, Jonah, played in the outfield.
The day did not start well for Nick Horning as Tyler Darmogray led off the bottom of the first with a single and Braden Sundquist followed reaching first on a bunt.

Cam Kelly singled home Darmogray to give the Braves a 1-0 lead and runners on second and third with no outs. With one out Gladstone ran a play that they had executed many times this season to score runs, the suicide squeeze.

It didn't work, as Casey Alworden squared around on the first pitch and it was low. He couldn't reach it. The Gremlins knew the bunt was coming.
"Oh yeah, we practiced the suicide squeeze," Horning said. "I threw a curveball so he missed it. Dylan got it, threw it to Gibby, and then the kid trucked me and that kind of fueled the flames."
Sundquist was caught in a pickle between third and home, he was chased back to third before he turned and bolted towards home. Horning caught the ball and held on as Sundquist barreled into him to record the out.
With the score still 1-0, the Braves again threatened in the second inning. Singles from Gavin Frossard and Hunter Solis put runners on second and third with only one out. A pop out and a strike out looking stranded more Gladstone base runners without extending the lead.
Braden Sundquist pitched the complete game for the Braves and would allow four runs on the day. All four runs would come in the top of the third when the Gremlin bats would come to life and they would take advantage of Gladstone mistakes.
Singles from Bryce Pugh, Cam Cishcke, and Kade Ferrell loaded the bases for Hougton. Sundquist would walk home a run before Dylan Primeau singled home Cischcke to take the lead. Dylan Horning grounded into a potential inning ending double play before Tyler Darmogray bounced the throw past first base and two runs crossed for the Gremlins.
Kade Ferrell said after the game of his bunts, "I did it for the team, not just necessarily for my hit. Advancing runners is a big part of the game, and me getting on just helped the team even more."
Those four runs would be all Houghton would need in the game to capture the victory.
Gladstone then threatened again in both the third, fourth, and fifth innings getting the lead-off man aboard in the innings before they were stranded on second and third, third, and second in their respective innings.
"That's the tale of the game right there. I told the boys you can't be down on yourselves, we just couldn't get the hit when we needed it," Coach Darmogray said.
Gladstone put the leadoff man on base five times and had only one inning without a baserunner, but stranded runners in scoring position five times and left eight runners stranded. They were not able to take advantage of their opportunities and it cost them.
In the top of the seventh inning, Cam Cishecke led off with a single and Kade Ferrell reached for the second time in the game on a bunt. Gab Carlson would sacrifice bunt to put runners on second and third for the Gremlins, who looked to add insurance to their three to one lead. Reed Heathman skied a ball to left field where Johnny Soderman caught the ball and gunned it Nick Martin to end the inning and give Gladstone momentum into the bottom of the inning.
Two quick outs from Horning quickly put the Braves down to their last out. Braden Sundquist drew a walk, but Cam Kelly grounded the ball to Kade Ferrell who touched second himself to end the game.
Sundquist's final line was seven hits, four runs, two earned, two walks, and three strikeouts in a complete game for Gladstone.
Horning's final line was eight hits, one earned run, two walks, and five strikeouts in a complete game win for Houghton.
Coach Darmogray said to his team after the game,"Hey, I'm proud of you for the way you guys played." We've got a lot of returning kids next year, and it's only going to get better."
Gladstone's season comes to an end with a final record of 21-7 in Coach Darmogray's first year at the helm. The Braves captured a district championship and will look forward to the future success of the program.
"I mean I'm happy. We didn't get a lot of credit at the beginning of the year, we got a young squad here," Coach Darmogray said of this season and the future.
After the game, both Kade Ferrell and Nick Horning spoke about how excited they were to continue to lead Houghton on this historic season for the Gremlins.
"This is huge for our team and the city of Houghton," Ferrell said. "It is crazy you know, we are just so excited, it is just unreal. Nobody can even like comprehend what is going on right now and it is just amazing."
"It's amazing, it's a great feeling, this is as far as I've ever gone in baseball so, it's great," Horning said.
The Houghton Gremlins improved to a perfect 21-0 and their season will continue down-state. For the first time, they will play in the regional final at Harbor Springs where they take on Standish-Sterling on Saturday.