OH, WHAT A FEELING! Eskymos Win D2 Regional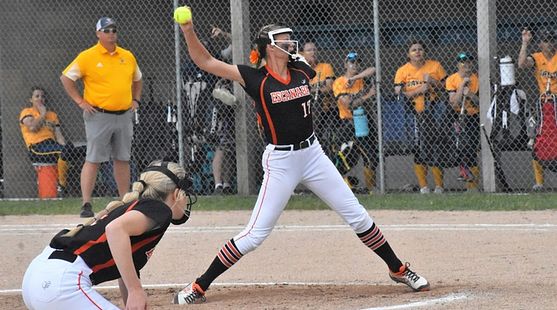 Click the thumbnails to see photos and videos taken by Braden Kerr, and listen to post-game interviews with Carsyn Segorski, Grayson LaMarche, Emliy Moore, Lizzy Sliva, and Eskymo Manager Andy Fields.

GAYLORD---For the past 12 months, all the Escanaba High School softball team thought about was the Gaylord Blue Devils. The Eskymos lost in a one-run regional semifinal game to the Blue Devils, and the Eskymos worked since that time to get another crack at them.
They got that chance on Saturday, this time in a MHSAA Division Two regional championship game that you had to see to believe.
The Eskymos and Blue Devils went down to the wire again, but this time, Escanaba pulled out a dramatic 3-2 win after it appeared the Eskymos would suffer another heartbreaker at the hands of the Blue and Gold.
This time, senior captain Carsyn Segorski came through with a two-run homer with two-out in the top of the seventh inning, and then freshman pitcher Grayson LaMarche set down the Blue Devils in the bottom half to send the Eskymos to the state quarterfinals on Tuesday afternoon against Hudsonville Unity Christian.
"This is exactly why I am on blood pressure medication," Escanaba Manager Andy Fields said. "Our game plan was to fight seven innings. Put the bat on the ball for seven innings. We knew that things could happen. This team, they fight. They are tough to the last out. I'm so damn proud of them."
This was a battle from start to finish between LaMarche, and Gaylord's talented freshman pitcher, Aubrey Jones. The Eskymos managed a run in the first inning when Segorski battled back from an 0-2 count to draw a walk on a nine-pitch at-bat.
Paxton Bullen tried to bunt and actually bunted it over the third baseman's head for a single. Then Carney Salo bunted both runners ahead, and then Lizzy Sliva, also with two strikes, lined out to right field, bringing home the first run on a sac fly.
It stayed 1-0 deep into the game as LaMarche kept the potent Gaylord hitters off-balance with her rise pitch. She did not allow a hit in the first five innings, and struck out the side in the second inning. Jones matched her inning after inning, allowing only that one hit by Bullen.
Then in the sixth inning, Escanaba had a chance with back-to-back base hits by Erica Moore and LaMarche. But the Eskymos couldn't get the bunt down, and Jones got the next three batters in order, including Segorski on an infield pop-up.
In the bottom of the inning, the Jayden Jones broke up the no-hitter with a booming double to lead off the inning. Alexis Shepherd then bunted, and the ball was up in the air. Erica Moore dove full-out for the ball, but was just short of a catch near the circle.
With two on and no outs, LaMarche struck out Aubrey Jones, but then Alexis Kozlowski smoked a line drive to right-center field for a base hit. Salo got the ball in the outfield and whipped the throw to the plate, but it was high. Catcher Carly Bowden went high into the air to get it and was clipped in the knee by the sliding Jones.
The ball got away, and as Bowden lay at the plate in pain, the second run came in to score, giving Gaylord a 2-1 lead. Kozlowski went all the way to third, but after a long delay and freshman Emma Wisler had to come in and catch.
"Carly has worked so hard this season," Fields said. "At a certain point this season, we stopped hitting her, just so she could focus on the catching. Carly caught one heck of a game today and I hope she's okay. I hope there's no structural damage (to her knee). That's the concern right now."
LaMarche got a pop up and a strikeout to keep it a one-run game.
"I just wanted to make sure after Carly got hurt that they didn't score," LaMarche said. "I didn't want anybody else getting on base because that really made me upset. I just wanted to jam their hands as best as I could and keep it high and off the plate so they couldn't hit it. My rise ball was really working today."
In the seventh, Escanaba got a gift when the Gaylord third baseman missplayed LaMarche's ground ball. With two out, up came Segorski, the four-year starter for the Eskymos at shortstop. She sat on the first pitch and hit an absolute laser over the left field fence for a two-run homer, giving Escanaba an improbable 3-2 lead over the top-ranked Division Two team in the state.

"Honestly, I'm not real good at hitting change-ups." Segorski said. "I just knew it was coming. My dad came up to me before that first at-bat and said 'sit on the firsr change-up and that's what I did I guess. There's nothing better than rounding those bases and seeing your teammates all sitting there, cheering you on."
There was still work to be done in the bottom of the seventh. LaMarche issued a one-out walk, but got a strikeout and then got Jayden Jones to fly out to center field, ending the game, and sending the seventh-ranked Eskymos to the Elite Eight for the first time since 2019.
"It was insane. I couldn't believe she (Segorski) did that," LaMarche said. "After she hit that, I went out there and pitched for her because she just hit and amazing bomb."
In the semifinals, Escanaba cruised past the Grant Tigers, 8-0, as senior Emily Moore threw four innings of one-hit ball with seven strikeouts. McKayla Mott tossed the final three innings, allowing no runs, two walks, and a hit batter.
"In the first inning, I was just trying to get used to the mound because every mound is different," Moore said. "I just went in there, like, throwing as hard as I can. I mean, every pitch could be my last. I like when we have insurance runs because then, it's not all on me."
Lizzy Sliva had an RBI single in the first inning and an RBI double in the fifth inning for the Eskymos. Salo added an RBI double in the sixth inning.
"We went into it like we do every other game," Sliva said of facing the Tigers. "Just play as a hard as we can, as best as we can. When I load (at the plate) it helps me time it out better and I can hit it at the speed that it comes at."
Grant (15-15) got a first inning single by Allie Noble. Emma Bliss threw a complete game in the circle, allowing nine hits and eight runs (four earned).
Gaylord (29-3) then slapped Big Rapids (33-6), 7-0, as Aubrey Jones and Jayden Jones both hit home runs. Jayden Jones was 4-for-4. Avery Parker pitched a complete game shutout for the Blue Devils.
The Eskymos, though, found a way, and will now face the Crusaders (36-6) in a quarterfinal on the campus of Northwood University in Midland. Game time is 4:00 and it will be broadcast on WCHT-FM/AM (93.5/600) and on-line at www.rrnsports.com.