FINALLY AT HOME: Gladstone Softball Sweeps DH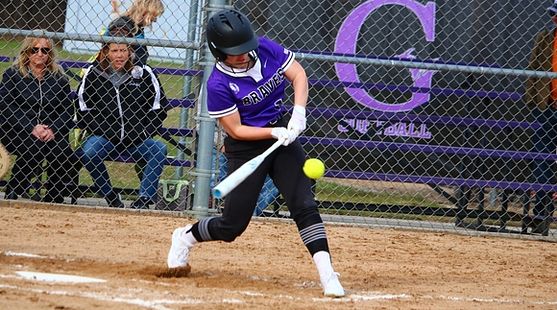 Click the thumbnails to see videos, photos taken by Scott Belanger, and to hear post-game comments from both coaches.

GLADSTONE---At long last, the Gladstone High School softball team played its first home game of the 2023 season.
After having multiple games postponed by bad weather, the Braves finally played at home on Wednesday, taking both ends of a doubleheader from the Kingsford Flivvers, 10-0 and 10-2. Braves Coach Rick Pepin was just happy to see his team on the home field for the first time.
"Today is the 50th day of out season, and we finally get to play on our field," Pepin said. "They were a little nervous, which resulted in kind of a slow start. But once they realized that we're playing, they finally got themselves going a little bit,"
In the opener, Pepin's daughter, Montgomery Pepin, threw a no-hitter as the game was mercied after five innings. She struck out eleven batters, but also walked six.
"She struggled tonight," Rick Pepin said. "I think, there again, that was nerves. She felt like her timing was off tonight. She'll get better, because she pays attention to details and she works hard."
Gladstone had two home runs in that opener, both were two-run shots, by Lauren Sundquist and Lu Martinez.
"The way that she (Sundquist) performs at the plate is not a fluke," Pepin said. "She prepares, ans she prepares, and she prepares. She is what you would call the true definition of an impact player. That's why we have her in the leadoff spot. And Lu, I told her today, this is your senior year, you've got to have fun. And she sparked us today with her first varsity home run."
Kingsford Coach Mike Cross says his team played hard, but just has to improve at the plate before the playoffs begin in a little more than three weeks.
"Quite honestly, we didn't get our bats working real well," Cross said. "We just didn't execute, or didn't get hits when we needed them. We had some errors, and you've got to play pretty much mistake-free if you're going to beat a team like Gladstone. Our hitting has got to get better. That's our biggest thing for the districts. We've got to be able to hit."
Kingsford (7-6 overall) got two hits from Eden Janousek in that second game against Gladstone pitcher Tia Schone. Finnley Lutz had the other Flivver hit, which brought home a run in that second game to bring the Flivvers to within 4-2 before the Braves put it away late. Gladstone had 21 hits in the doubeleheader.
While the weather has been rough for softball in the southern U.P., it's been even worse in the northern U.P., where heavy snow fell again this week.
That's why the Braves are hosting a unique tripleheader on Thursday: Gladstone and Negaunee will play at 3:00, Negaunee and Marquette will play each other at 4:30, then the Braves will play Marquette at 6:00.
"We're trying to be creative," Pepin said, after his team improved to 6-1 on the season. "We offered the invite, because we want them to get games in, too. We're kind of all in the same boat. So, it's a win-win situation for all three schools."