Darmogray, Peterson Help Braves Beat Esky Again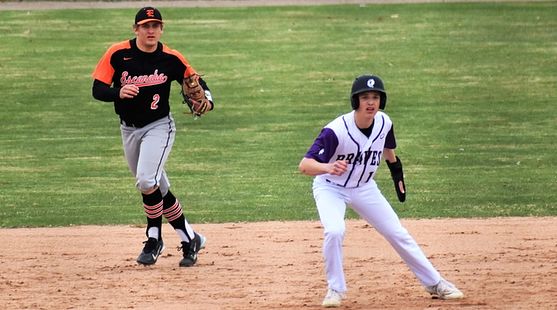 Click the thumbnails to see photos and videos, and to hear post-game comments from Darmogray, Peterson, and both teams' coaches.

ESCANABA---Tyler Darmogray pitched a complete game and Noah Peterson scored twice and made a diving catch in the outfield to lead the Gladstone Braves to their second straight win over the Escanaba Eskymos, 6-1, Friday in Escanaba.

This follows Gladstone's 4-2 win over Escanaba in last Friday night's game.

Escanaba committed four errors in the game and starting pitcher Bon LaChance walked seven batters, plus he uncorked several wild pitches that moved Gladstone baserunners along, with one of them scoring. And the Braves pulled off a double steal in a first-and-third situation when the throw went to second base late. And the Eskymos had a couple of baserunning mistakes that led to two double plays on line drives.

All in all, not a good night for the Orange and Black.

"All the errors we committed today, they took advantage of," Escanaba Manager Scott Hanson said. "It's just like last week. We opened the door for them, and they took advantage. Gladstone is a really good team, and when you give good teams opportunities, they take advantage every time. We've got to find a way to correct that. We've got one more shot at them next Saturday."

That was a welcome sight for Gladstone Manager Joe Darmogray, who watched his team make multiple errors that led to a 6-5 loss at home to Marquette Wednesday night. The Braves played stellar defense all night long, highlighted by a diving catch by Peterson in right field that robbed Bon LaChance of extra bases, and of a run batted in.

"We had a little heart-to-heart with them after Wednesday's game," Darmogray said. "We just said, hey, that's not the type of ballclub that we know we are. That (Peterson's catch) was a heck of a play. I mean, he read it perfectly."

That catch came in the first inning after Eli Gardner singled, and Trent Lawson smoked a double in the left field corner. But Braves catcher Braden Sundquist threw a dime to second base to get Gardner trying to steal, and then after Lawson ripped that double, Peterson robbed LaChance with a full-out dive.

"I knew I had to catch it, otherwise, they were scoring," Peterson said. "If they get that momentum going early, then they carry it. I had to shut that down quick. That's everybody's dream ball. I mean, everybody wants to make that play. I'm happy I got to make it. We just didn't show up (against Marquette). We're not gonna win with seven errors."

That kind of defense, along with two double plays on line drives by Aedan Creten at first base, helped Tyler Darmogray keep his pitch count low. Darmogray managed to throw a complete game, getting the final out on his 106th and final allowed pitch. He yielded just five hits.

"I know Doug's (Laviolette, home plate umpire) strike zone pretty well, so I was just spotting pitches on tethe inside corner, outside corner, top and bottom," Tyler Darmogray said. "I was just trying to locate, and if they hit the ball, well, then they just hit the ball. Mostly spotting my four-seam, two-seam fastball. and I was throwing my curveball a lot, and a change-up once in a while just to throw people off."

LaChance threw 105 pitches as well for Escanaba, but only made it through 4 1/3 innings because his pitch count went up in the first two innings.

That included 28 pitches in the first inning after the inning appeared to be over on a bouncer by Sundquist to second base. The call was initally "out" and it looked like a 1-2-3 inning for LaChance. But the umpires conferred and the call was reversed to "safe". LaChance walked the next two guys before striking out Gavin Frossard with the bases loaded.

The damage was done, though, to LaChance's pitch count. He ended up striking out nine batters but walked seven before running out of pitches.

"I thought they made the right call ans he (Sundquist) was safe at first," Hanson admitted. "Is it that big of a deal? No. But in the grand scheme of things, if we get into a district game or a really big game, and you push somebody's pitch count up by making him throw extra pitches, that hurts. I thought Bon pitched pretty well tonight. It's a rivalry game and it's a bummer that we didn't play better, but we move on. It's just one of 30-some games."

Gladstone scored a run in the second inning on an opposite-field RBI single by Creten, then added a run in the third inning on a two-out infield single by Rex Kelly with a runner on third base. Two runs came in during the fifth inning, one of them on three wild pitches uncorked by LaChance and the other on an RBI single to right field by Darmogray.

The final two runs came in the sixth inning on a couple of Escanaba errors and an RBI single by Nate Young. Gladstone also scored on a double steal in the first-and-third situation. The Eskymos' only run came in the sixth inning on a fielder's choice grounder by Matt Kaven.

With the win, Gladstone improved to 5-2 on the season. Escanaba fell to 10-4.